▲MADAM No.2 By Mr. Silence Wish
Registered in the United States Copyright Office in 2003:©Silence Wish
International Copyright Certificate Code: VAu602-056
People facing the lens are not always those who can be called models.Unquestionably, a considerable part of the women came to the studio are seeking "beyond self". Not only is it the photographers' honor, but also the problem of the photographers. From the high view point, entering into the customer's mind and camera-imaging out of our mission, you will see people constantly descended into the mirror are not a person but an era. Based on this, we can be eligible to stand in the forefront of art aesthetics, show great foresight, and expect the panorama of portrait photography.
There is no doubt that people who enter into the studio are "angels" (at least they feel so at that time). Regardless of the status of their lives is good or bad, happy or sad, at the moment when they decided to go into the studio to "set up" themselves, they had already started to psychologically self-packaged. Every photographer who has many years of experiences are well aware that "the eyes are the windows of the soul" and "hands are the second face", and strongly shaped them. However, why do not we notice the hair? Oh, a strand of black hair, curly or straight, long or short, is always so smooth, spreading a touch of aroma! This is a sign of psychological self-packaging. They took a shower and dressed up, and even selected a day of fine weather, full of hope and a little concern: at the time and at this place, since they chose this studio, the price is not big deal, and the key is how the portraits can capture their charming characters and fascinating spirits.
Portraits to capture the spirits, these simple words create an unlimited realm of good fortune for every portrait photographer. It requires us to use our own camera and the mind of customers to quickly build a kind of psychological mood and dissolve into the eternal moment. It is the moment full of charm and hard-work that should be cherished as the common goal of a photographer and the customer. Honestly, the sense discussed here is usually the relative truth, not the absolute law of nature. We always exert ourselves to make our work close to the expecting goals as much as possible, but this method, expect the photographers'"skill" at first, and are to understand the vastly different people to be photographed. Pleased note, only limiting to a simple "communication" is hardly enough to give birth to a viable work. Definitely, direct knowledge of each person being photographed is incredible, but a fully qualified photographer have the ability to obtain the general understanding from the fully oriented summary of different customers. We know everyone inevitably lives in a historical period at no choice. This is the era. People consciously or unconsciously board the boat of era in various forms, and embedded the sign of each journey into their deep heart, which then creates a potential self. If you understand the era, you understand every people being photographed. So, those who constantly descended into the mirror are not a person but an era. The smoke of the fire was dispersed, the vanity of the "leap forward" was flicked, and the baptism of a "disaster" was experienced. At the present, we live in an era of more and more pragmatic and progressive day by day, and more and more accumulated and positive year after year. People instinctively sought the position and value of their own, and constantly adjust their perspective and awareness. A productive and accomplished portrait photographer should not just stop at the level of aestheticism, but should be incumbent upon making this kind of positive emotion directed and vented. Not only shoot his (or her) style, but also reflect their innermost thoughts and the soul monologue; not only shoot a harmonious picture, but also reflect the epitome of the era, and ultimately achieving the unity of content and form, making life meaningful fixed. When people see it, it's just like hearing a voice-over of the era, not just being understood as a beautiful and pleasant picture.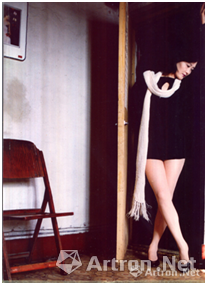 ▲MADAM No.3
Registered in the United States Copyright Office in 2003:©Silence Wish
International Copyright Certificate Code: VAu602-056
Needless to say, currently "star photos" and "obsequiousness photos" are selling well, but they are also very "tacky". It is certain that one day they must become the background of history accompanied by the environment that generated them, the vanity at the beginning of Reform and Opening. We are pleased to see that constant stream of people into the studio, who had a concrete soul behind every vivid face, made the high-level requirements to the photographer in silence. Although they had different educational background and different ages, they have been requested their photos alternatively come out to be "engaging", "personality" and "not tired". This forced us to know: era is not fashionable. Hip is an imitation of representation, and the era will be marked a hardly-obliterated sign in the superstructure. Thus the photographer should define themselves as shooting the contemporaries, not the stylish people. To accept each person being photographed from this point of view, we will feel the difficulty of innovation reduced, the confidence increased, so as to continuously improve the success rate.
Shooting era, how haughty and uneasy it is. Thus it can meet our burden and is worth to admire and pursue! To enter the realm of freedom of portrait photography, photographers need to further refine themselves, to continuously "improve" in the aspects of inner-depth and ideology, to foster the creation of a new gene, and to expand the areas of life. Thus they will slough off the name of unimaginative craftsmanship, "the person who take pictures", and continuously skillfully dig a series of different selves from the same limbs and facial features of thousands of different people by operating from a strategically advantageous position, using the technical skills to express the modeling language and portray the light and clothing. "The form of art outflows from his knowledge, being injected into the external materials, so as to constitute works of art. There is nothing to stop him from thinking about those which haven't yet been made the external forms of expression" (Italy, St. Thomas). This is what critics rated as mature work.
Work like this can be still fresh even after long time, and can withstand the review of years; only this kind of work, can be romantic and classic, not only popular but also timeless; only this kind of work, will ultimately introduce the aesthetic orientation into photography, and gradually connect with the art crane, and thus go into the easy road of art photography. Furthermore, this kind of mature work does not mean it's difficult to understand. The atmosphere it created in a simple way declares forever beyond the language of heart. You can't help but move without translation, regardless of gender and nationality, as long as you have life experience. As Mr. Qiuyu Yu said that "Maturity is the glory that's bright but not dazzling, and a sound that's smooth and not greasy...the thickness that is not necessarily acclaimed, and the height that is not steep". The portrait reaching this level can announce with a clear conscience: we have completed the lofty theme of the "shooting era".
About Mr. Silence Wish
In the millennium 2000, the old and authoritative Royal Photographic Society (RPS) commended that Mr. Silence Wish's images "are very creative and help to breakdown any stereotypes we may have of Asian photography".
Then, his image VISION No.1won the PSA gold medal and FIAP Honor ribbon at the same time.
After that, the United States International Copyright Office granted his 121 images Certificate in International Copyright.
In 2007 and 2008, his images entered the auction market.
From then on, he has kept silent for ten years, but he never stops art exploration. In this noisy world we cannot find his traces on popular search websites, but we can see his images' auction records on professional art media.
Now he is rising like a phoenix from the ashes due to literature and philosophy's soak into his life, baptism to his soul, ignition of his passion. No matter humanity torture or sexy romance, how deep, powerful and passionate they are!
Mr. Silence Wish is a pure man. He has fallen in love with film photography since 16 years old, and never changed his original intentionso far. His images are made of original film, with no later darkroom process, no Photoshop production. Lens skill is perfect, and photography language is strong and dignified.
At the same time, the platinum classical handicraft images made by Mr. Silence Wish use special material and they are unique and valuable, with rich connotations, powerful tension, and historical sense.
The handmade platinum image is old and expensive contact printing process. As long as the material is not destroyed, the image will never fade.
Platinum, chemical symbol Pt., is a very heavy, silvery-white precious metal, far more costly than gold.
----Encyclopedia Britannica
Platinum is known as white gold.
----Encyclopedia of China
Biography
A teacher, an editor, an art director etc.
1998 became the member of the Royal Photographic Society of Great Britain
1999 one image was selected as part of the Groups 1999 print exhibition
sixcolour images were published on the centre spread of Creative News, the magazine of the RPS's Creative Group, and were commended on the cover:
"The centre spread of 6 colour images come from group member SILENCE WISH from the People's Republic of China. One image was selected as part of the Groups 1999 print exhibition but the whole panel is worthy of publication. I'm sure you will agree that these images are very creative and help to breakdown any stereotypes we may have of Asian photography."
2000 VISION No.1won the gold medal of PSA and honorable mention of FIAP in an international photography exhibition in Holland
four photographs have been selected for ten times in the 9th Austrian in Super Circuit
2003 registered 121 photographers' copyright in the United States Copyright Office, certificate code: VAu602-056, issue dateOCT: 01/2003
2007-2008 auctioned four photographs in Beijing
Published Articles
"Some Personal Experience In Taking Part In International PhotographicExhibition", People's Photography, May 17, 2000
"Thoughts After Winning A Prize", China Photo Press, May 23, 2000
"My Vision"(with both words and pictures), China Photo Press, June 6,2000
"Portraits: The Epitome Of Epoch", China Photo Press, June 23, 2000
"The Digital Soul Of Berlin Wall", China Photo Press, Dec. 19, 2000
(Translator Eileen)