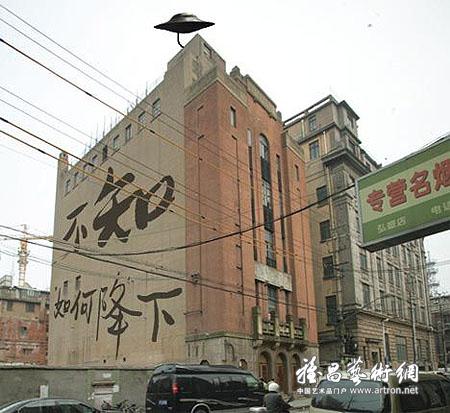 The Rockbund Art Museum, part of Shanghai's building boom
Related Link: In Shanghai, Preservation Takes Work
Cai Guo-Qiang: Peasant Da Vincis
As preparations for the World Expo in Shanghai (1 May-31 October) reach fever pitch, several new museums and cultural spaces are opening in readiness to welcome some of the 100 million visitors, which officials estimate will attend.
Leading the swathe of new cultural attractions is the Rockbund Art Museum, housed in a converted 1932 art deco building on Shanghai's historic riverfront, restored and with interior design by British architect David Chipperfield. The building was previously home to the Royal Asiatic Society, and is next to the former site of the Shanghai British Consulate.
The museum, which is part of a larger development project, opens with a celebration of peasant creativity curated by the artist Cai Guo-Qiang, featuring DIY flying machines and a rooftop UFO.
Countries including Spain and Holland are opening their own cultural centres away from the main expo site in downtown Shanghai, to host a series of art and culture-related events. The Dutch Cultural Centre opened in March, featuring a well received performance by conceptual artist Ibrahim Quraishi. The centre will host a show of works from the Van Abbemuseum in Eindhoven during the expo.
Other new museums include a Chinese "hometown folk museum", a brick and tile museum, a numismatics museum and a water museum, while numerous "cultural sub-centres" are being developed in the suburbs.
The newly opened Minsheng Art Museum plans a 30-year retrospective of Chinese art to open during the expo. It was also recently announced that the Shanghai Museum of Natural History will build a new three-storey museum to open in 2012.
The Shanghai city government has issued a policy to bundle cultural activities away from the urban core, but make them easily accessible by the city's new extensive subway network.
A $15m cultural centre development in the once remote Minhang district is being publicised as a prime example of the success of this initiative, with the local press saying it can be reached in only seven minutes on the subway—an optimistic claim.
The centrally located Shanghai Art Museum was reported to be planning a large glass exhibition pavilion, but the plan appears to have been shelved due to costs and lack of interest from prospective exhibitors.
In the Pudong district, home to the main World Expo site, the Zendai Himalayas Art Museum has opened a 3,000 sq. m "art supermarket". The museum said 80% of works had been sold in the 5,000 yuan ($700) category, with initial revenues reaching 570,000 yuan ($83,500) on the opening day.
Ad-hoc spaces are appearing in downtown Shanghai, recent additions being the Nut and Neon, which host pop-up shows and cultural events. The districts of 50 Moganshan Road and Weihai Road 696 also boast new galleries and creative spaces.