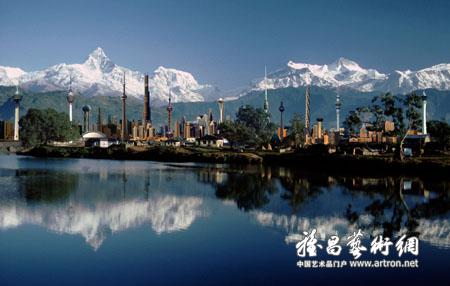 Jaishri Abichandani - Fourteen Cities (2008) photograph.
Date: May 27-May 30, 2010
Venue: Hong Kong Convention and Exhibition Center
Collector's Preview: May 26, 4-6 pm
Rossi & Rossi is proud to announce its participation in the 2010 edition of Art HK, Hong Kong's premier contemporary art fair. The London-based gallery Rossi & Rossi will present the works of emerging Indian artist Jaishri Abichandani, who will debut new and recent works in sculpture, photography, and painting, and young Tibetan artist Tenzing Rigdol, who will debut a new series of mixed-media collage works.
Jaishri Abichandani
The work of Jaishri Abichandani examines the political ramifications of our individual and collective identities through the lens of her experiences as a South Asian-American artist. These overtly political messages play out through a deft selection of imagery that blends the contemporary and the traditional, often crossing opposing figures found in mass media to present novel interpretations of current events.
Born in Mumbai and based in Brooklyn, she has exhibited in the Guangzhou Triennial, the Beijing 798 Biennial, and institutions that include P.S.1. and the Queens Museum of Art in New York; as well as the Institut Valencia d'Art Modern. An accomplished curator, she founded the South Asian Women's Creative Collective in 1997, and later served as Founding Director of Public Events at the Queens Museum of Art. Her work is held in collections that include the Momenta Art Video Library, the Burger Collection, the Florian Peters-Messers Collection, and the Saatchi Collection.
Tenzing Rigdol
A poet and artist who has worked in painting, video, performance, and sculpture, Tenzing Rigdol brings a background steeped in the rich traditions of Tibetan art and culture to his practice. Buddhist deities, saints and other iconography are rendered in dazzlingly vibrant, graphic images that are coded with philosophical statements describing conflict, the human condition, and the plight of his homeland.
Rigdol left his native Tibet in 1999 and studied sand painting in Nepal, before receiving political asylum in 2002. Currently making New York his home, he is among the leaders of the generation of young contemporary Tibetan artists, his works have been exhibited in the Fundación Canal, Madrid; the Yerba Buena Center for the Arts, San Francisco; and the Rubin Museum of Art, New York. A book of his poetry entitled "R" - The Frozen Ink was published by Tibet Writes in 2008.
Tenzing Rigdol - Indivisible (2010) Pastel and collages on paper.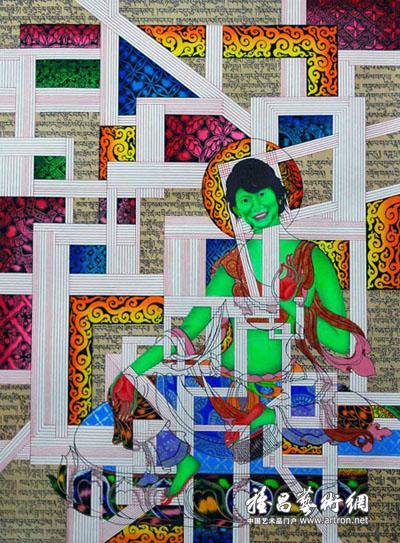 Tenzing Rigdol - Study: Updating Green Tara (2010) Pastel and watercolor.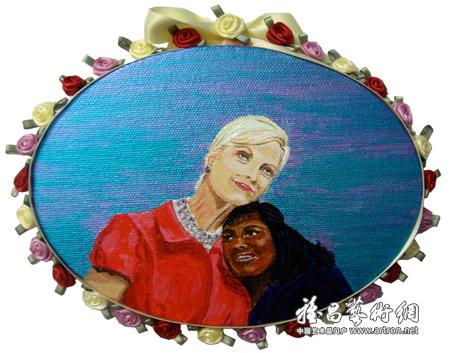 Jaishri Abichandani - Noblesse oblige (2010) acrylic on canvas.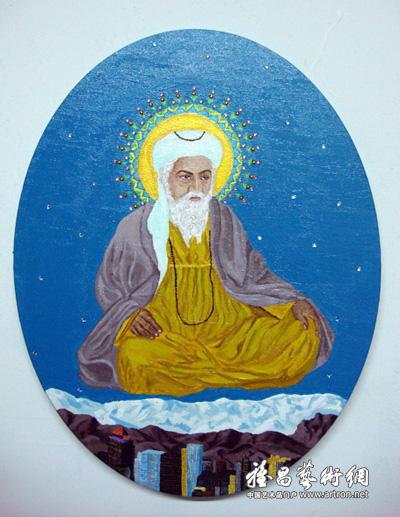 Jaishri Abichandani - Viral Conflation (2010) acrylic on canvas.