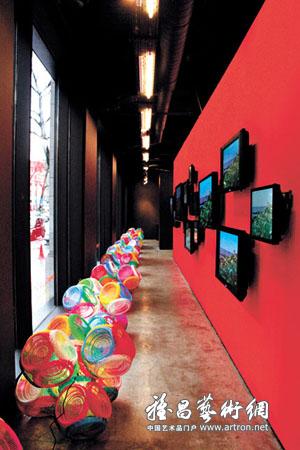 One of the works of Choi Jeonghwa
An upcoming large-scale exhibition of contemporary South Korean art, "Plastic Garden," showcases spectacular works in plastic, as well as paintings, photography, video and installation (a lot of plastic).
The show, subtitled "Korean Contemporary Art," opens on Saturday at the Minsheng Art Museum and runs through September 12.
The show features 64 works by 17 artists, including several celebrated masters. The curator is Yun Cheagab, who is familiar with Korean art and lives in Beijing and Seoul.
The best-known artist is probably Choi Jeonghwa, whose colorful plastic public art is familiar in Shanghai. He created the dynamic colorful tree with formidable "flowers" in the lawn beneath the Yan'an Elevated Road.
"Markets are the greatest source of inspiration to me, and uneducated, middle-aged women are my formidable teachers," says Choi, who was born in Seoul in 1961.
He apparently has discovered elevated aesthetic taste among pedestrian subjects.
A plastic artwork by Choi Jeonghwa
His work often feature "plastic" foods, including fatback meat, pig heads, fish, chickens, vegetables and fruit - nourishment that is vital for life, but which also decays.
These common foods, together with flowers, appear frequently in his genre paintings.
One of the themes that run through his works is the concept of decay - everything living is perishable, everything decays in time.
In Choi's view, everything in the world either rots, or doesn't. Flowers, food and plastics are related through the concept of decay.
"Plastic is not only a permanent thing but also a material that can vividly imitate fresh foods and flowers," he says.
"I'm interested in giving new meaning to ordinary, everyday object. Plastic has new value as art. I want to make artwork that is accessible to everyone, not only regular museum-goers."
For this exhibition, the artist wraps one outdoor facet of the museum with a bunch of colorful plastic balloons.
Finding the subtlety in ordinary life seems to be popular among contemporary South Korean artists, and photographer Koo Bohnchang is no exception. He turns his lens on the interiors of boxes or rooms, and on soap.
"An empty box found in storage is sure to trigger thoughts of the contents it may once have contained. Through the camera lens, a small box can seem like a very large room, while an empty storage space can completely lose its sense of dimensions," Koo says.
For him, soap has a poetic aura.
"Sometimes soap creates the poetic form of a bubble, but the central fact about soap is that it never ceases disappearing. We rarely witness a soap bar's end. Worn down by use, or dropped accidentally down the drain, or melded to a new bar, it simply disappears," Koo says.
To become bubbles and be washed away - in the photographer's eyes, what happens to soap is what happens to all of us.
"Its way of living is its way of dying, man and his object both are washed away."
The effervescence of soap also suggests the changeability of film.
"Photography does not capture the past or present, it only traps what's in front of the eye in the present. The work of the photographer is to reveal each moment as it disappears," he says.