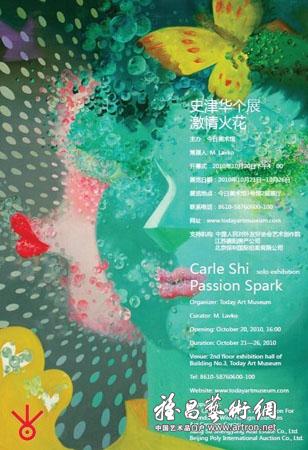 The Poster of the Exhibition
The Artist (Right 1)
The opening of"Passion Spark"Carle Shi's solo exhibition was held in Today Art Museum on October 20. And the exhibiton will last for six days.
A blend of her Spherical series of works which was shown to much acclaim at the United Nations in New York City, and her more painterly figurative works come together in her portrait collection. With her painting of "A Friend" and "Self Portrait 1" she has liberated her more static spheres to sets of orbs and ovals that energize the images, and whose patterns represent the non-static quality of life. The usage of multiple planes and distances to the subject further add to heightening visual tensions. The balance of realistic renderings of the portraits with a full palette patterning of warm and cool colors underscore the oeuvre's leitmotif.

Other artworks from the set possess variations on the theme. The monumental "Emerald Eyes"
painting has an all over composition and abstraction creating a pleasing curvaceous quality. The
background of the work shows a pair of transfixing, mysterious staring eyes. Any grand designs are left to viewer discretion, as Ms. Shi does not have any overt environmental agenda with "Emerald Eyes" and says she's simply working to try and evoke emotions. Another color dominant variation from the series is "Violet Visions". Royal blues and vivid purples anchor the image. The recurring motif of orbs float like bubbles giving a kinetic essence to the abstraction and lighten the diagonals charging across the painting. Other eyes, whether open or closed, dot the composition and become focal points because of their relatedness. Like the portraits, the colors serve to counterbalance each other and raise the level of viewer experience.