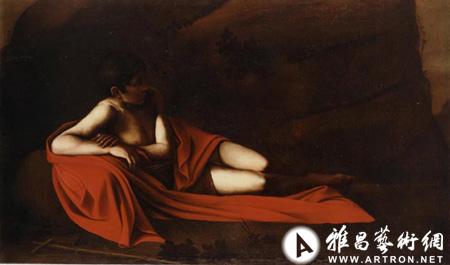 Caravaggio (1571-1610), St John the Baptist Reclining, 1610.
The Rembrandt House Museum is exhibiting an almost unknown painting by the Italian artist Caravaggio (1571-1610) from 3 December 2010 to 13 February 2011. St John the Baptist Reclining comes from a foreign private collection and has increasingly been accepted as an authentic Caravaggio by experts since its discovery in 1976. They also consider this painting to be the very last work by the renowned Italian master and date it to 1610. This work of art will be shown to the public for the first time exactly four hundred years after it was painted.
Rembrandt - Caravaggio
The painting will be exhibited in an iconic space: Rembrandt's studio. Rembrandt is often described as Caravaggio's true artistic heir. The artists' powerful depictions of strong emotions, dramatic lighting and astonishing realism set them apart as the two great geniuses of Baroque painting. Rembrandt probably never saw an authentic painting by Caravaggio, but this does not mean that he was unfamiliar with his work. Rembrandt did know the work of the 'Utrecht Caravaggisti', a group of artists in Utrecht who lived in Rome in the early seventeenth century and were profoundly influenced by Caravaggio. Their realistic style of painting and extraordinary treatment of light (chiaroscuro) were borrowed from Caravaggio's work. We can see how Rembrandt reflected Caravaggio's realistic style and extraordinary handling of light and shade in his own entirely individual way.
Michelangelo Merisi da Caravaggio (1571-1610)
In 1592 Caravaggio established himself in Rome, then the centre of the arts. His exceptional talent did not go unrecognized and important commissions followed. His dramatic, extremely realistic manner was admired by art-lovers and fellow-artists, but appealed less to the lower ranks of the clergy and the ordinary people, who felt that his work was vulgar and irreverent. Around 1600 Caravaggio achieved great fame by producing spectacular paintings for churches in Rome. Cardinals and royalty paid huge sums to acquire his works for their collections. Artists in Rome were influenced by Caravaggio's innovations, adopted elements from his work and disseminated them throughout Europe.
Caravaggio cannot be said to have led an exemplary life. After fatally wounding a rival in May 1606, he narrowly eluded the papal guards. His wanderings took him to Naples, Malta, Sicily and back to Naples, all the while hoping for a pardon and a speedy return to Rome. On 18 July 1610, shortly before that saving pardon reached him, the thirty-eight year-old painter died in Porto Ercole, less than a hundred kilometres to the north of Rome. His grave was only discovered in June of this year.
There were three paintings in his estate: a Mary Magdalene and two works portraying the young John the Baptist. One John the Baptist was acquired by Cardinal Scipione Borghese (now in the Galleria Borghese in Rome): The other two paintings disappeared without trace and have only recently been identified. This magnificent work is one of them. The painting is in a foreign private collection and is now being publicly exhibited for the first time as an authentic rediscovered Caravaggio. The Rembrandt House Museum has the honour and the pleasure of staging this world premiere.