Wang Meng Paingting 'Zhichuan Resettlement'set a new record at 402.5 million yuan
The wash painting of mountains and waters 'Zhichuan Resettlement' by Yuan Dynasty painter Wang Meng (1301 - 1385) sold at 402.5 million yuan (US$62.11 million) on Poly spring auction Ancient Calligraphy and Painting which set a new world record of this year's ancient calligraphy and painting auction as well as broke Wang Meng painting's own record.
The hanging scroll "Zhichuan Resettlement" portrays medical scientist of the Eastern Jin Dynasty (317 AD - 420 AD), Ge Hong, moving his home to the Luofu Mountain for alchemy. With other seven great scholar, painter and poet title poem on it, it is the most expensive one in the history of Chinese artworks auction. The picture has been handed down for six centuries.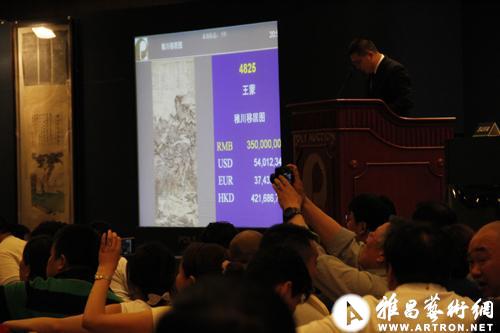 At the time when Wang Meng painting 'Zhichuan Resettlement' sold at Poly Spring auction Ancient Calligraphy and Painting
Some great identify experts on Contemporary Chinese Calligraphy and Painting such as Qi Gong, Xu Bangda, Fu Xinian all speak highly on this painting. It is very hard to see such great painting from private collectors which make the price accord to the painting.