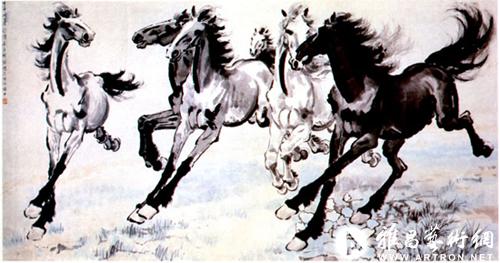 【Related News】
Denver Art Museum to Present First U.S. Exhibition of the Work of Chinese Painter Xu Beihong
A new exhibition at the Denver Art Museum in Colorado is showcasing Xu Beihong's work for the first time in North America. Generally considered to be the father of modern Chinese painting, his influence on the art world is acknowledged to be vast.
Featuring 61 works including oil paintings, Chinese ink brush paintings, drawings, pastels and calligraphy, the exhibition titled Xu Beihong: Pioneer of Modern Chinese Painting demonstrates the artist's unique blend of Western and Chinese techniques. Visitors may recognize his dynamic paintings of horses in movement, for which he received great acclaim.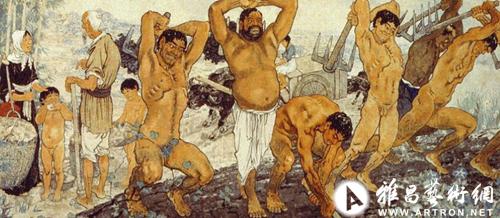 Born in 1895, Xu worked as a commercial artist in China and later traveled to Europe to study Western art techniques. The influence of his Western education came to define his art and later, the curriculum he introduced as a leading art professor at National Central University.
Traditionally, Chinese artists prided themselves on their ability to mimic the masters that came before them. But Xu introduced still life and live drawing sessions, a teaching tool that remains in most Chinese art curriculums to this day. He also popularized portraiture and Western oil paintings, even though the materials were often difficult to find in China upon his return from Europe.
"The title of the exhibition refers to him as a pioneer, because we think that his art is defined by a theme of adventurousness, of going into unexplored areas, both in terms of his travels and his art, and how he adapted these new elements into his work," said Ronald Otsuka, curator of the exhibition. "Xu had very strong feelings about his national heritage and strong feelings about China as a nation and as a people, and that was very apparent in his work."
China went through a series of upheavals during Xu's career, including the Japanese invasion of China and later Chinese civil war.
"It was a very hectic time for China, but in Xu's work you don't see soldiers or bloodshed," Otsuka said. "You see very beautiful work featuring landscapes and scenery. It's not that he was ignoring the events of the time, but he found a way to express emotion through art. The horses he painted represented the strength and vitality of the Chinese people; an eagle could represent the far-sightedness of the Chinese seeing into the future."
John Sie, founder of the Sie Foundation, and whose father was a friend with the artist, agreed.
"First and foremost, it's art in and of itself to be appreciated," he said. "I think that the essence and the force behind the painting jumps out at you. If you look at his galloping horses, beyond the physicality the paintings really represent the essence of the Chinese people wanting to be free. There's always symbolism attached to his paintings."
Use of symbolism was often necessary at the time, Otsuka said.
"Chinese artists would have found it very difficult to portray contemporary events as they were happening," Otsuka said. "They might frame an event that happened in the second century BC and make an analogy about the sacrifice of a leader's life. Xu lived through a lot of upheaval, and that was all backdrop to his activity as an artist."
Xu was deeply patriotic, said Michelle Sie Whitten, executive director of the Sie Foundation.
"He was very proud of his Chinese heritage, and of the Chinese people," Whitten said. "All the proceeds from his exhibits were given back to the Chinese government to give to the Chinese people. I think that because he witnessed the Japanese occupation, he felt a deep patriotism and pride about his country as a result."
Although Xu exhibited his work in France, Germany, the Soviet Union and in India among other countries, his plans to travel to America were thwarted by the attack on Pearl Harbor, Sie said.
"His wish was to have an exhibit in the United States, so this is a 70-year-old wish fulfilled. Although he never visited, he always felt an affinity for the US."
Western audiences will be surprised by the variety and depth of the work, Otsuka said.
"I think that people will be surprised that even though these works were created by an artist who died in 1953, they still have a relevant impact," he said. "They're not abstract; they're recognizable images of nature, trees and people. As viewers begin to realize the tumultuous circumstances under which many of these works were created they'll get a sense of the vulnerability and sacrifices an artist had to make in those times to create these works."
Sie agreed.
"Xu was very unique, and we feel deeply fortunate to mount the very first exhibit of his work in the US," he said. "It's a great message for both Chinese-Americans and Westerners to appreciate work by the father of modern Chinese painting up close."