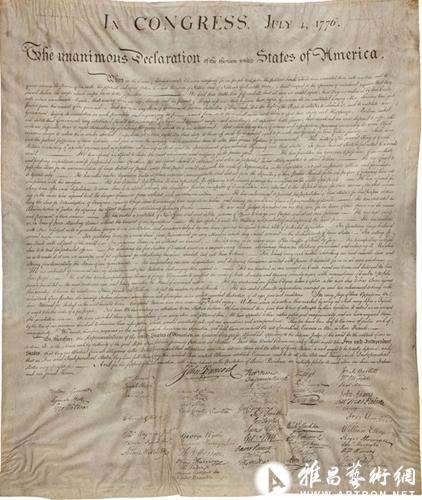 This photo from Heritage Auctions shows the recently discovered 1823 William Stone copperplate printing of the Declaration of Independence that sold at auction in New York for $597,500, against an estimate of $250,000, on April 11, 2012. Only 31 copies of this historic re-printing were known as of a 1991. Heritage Auctions stated that the document sold to an anonymous East Coast collector.
With a price worthy of its historic stature, a recently discovered 1823 printing of the Declaration of Independence, painstakingly engraved and printed by William Stone to celebrate the 45th anniversary of the founding of The United States, sold for $597,500, more than doubling its' pre-auction estimate, at auction in New York on April 11, 2012. It was purchased by an anonymous East Coast buyer and was considered the centerpiece of the Heritage Auctions Historical Manuscripts Signature(r) Auction.
"In 1820, English-born engraver William J. Stone of Washington, D.C. was commissioned to produce an exact copy of the original Declaration of Independence onto a copperplate, a process which took him three years to complete," said Sandra Palomino, Director of Historic Manuscripts at Heritage. "It was almost 45 years after the Revolution, only six years after the War of 1812 and smack dab in the middle of President James Monroe's 'Era of Good Feelings,' the most significant period of growth in the young nation's history up to that point. Interest in the Declaration surged."
In all, 200 official parchment copies were struck from the Stone plate in 1823, with one extra struck for Stone himself. Each copy is identified as "ENGRAVED by W. I. STONE for the Dept of State, by order" in the upper left corner, followed by "of J. Q. ADAMS, Sect. of State July 4th 1824" in the upper right.
"We know from a 1991 census of the manuscripts that there 31 total known to survive, with only 12 copies in private hands," said Palomino. "This auction represented a singular chance for someone to acquire a prime piece of American history and collectors jumped at the chance.""
Choice pieces of Early American history were greatly in demand at the auction, as a Thomas Jefferson presentation copy of A Manual of Parliamentary Practice, with a Jefferson autographed letter transmitting the book to Virginia Revolutionary War soldier, politician and judge Francis T. Brooke realized $113,525 - against an estimate of $30,000+ - and George Washington's signed copy from his own library of A View of the History of Great-Britain during the Administration of Lord North, to the Second Session of the Fifteenth Parliament, bearing the first president's bookplate, brought $101,575, also against an estimate of $30,000+.