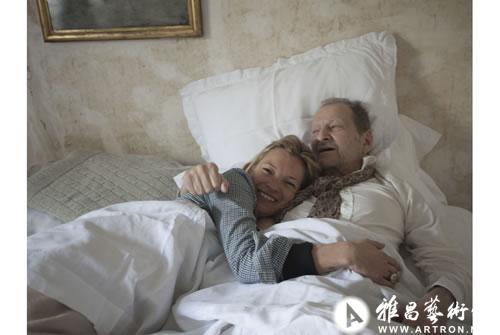 David Dawson, Having a cuddle with Kate 2010© David Dawson
Following the conclusion of Sotheby's Summer Season of Contemporary Art Sales, the auction house will be exhibiting together, for the first time, two unique groups of photographs of Lucian Freud by Cecil Beaton and David Dawson. Spanning different periods of the artist's life, these intimate photographs give a unique insight to Freud's inner life. "An Artist's Life: Photographs of Lucian Freud by Cecil Beaton and David Dawson" runs from 10th July to 11th August 2012 at Sotheby's on New Bond Street and coincides with the Summer 2012 Cultural Olympiad.
This is a never-before-staged dedicated show of portraits by two of Freud's most significant interpreters – Beaton, the renowned photographer and Dawson, the artist's assistant. Most of Dawson's photographs are as yet unpublished, and a number of them have never before been exhibited.
Discussing the forthcoming exhibition, Oliver Barker, Deputy Chairman Sotheby's Europe and Senior International Specialist, Contemporary Art, commented: "Lucian Freud's contribution to the world of art has been immeasurable and we are therefore thrilled to be able to stage this exhibition of portraits which celebrates the life and artistic achievements of this iconic painter. The show is a discourse between early and late, and balances artistic immortality sought through portrait photography by both Cecil Beaton, whose archive of photographs belongs to Sotheby's, and David Dawson to whom we are extremely grateful for loaning these revealing and mostly unpublished images of Freud."
Portraits by Cecil Beaton
Famed for his images of style and elegance, Cecil Beaton (1904-1980) is one of the 20th century's most celebrated portrait photographers. Drawn from the historic Cecil Beaton Studio Archive held by Sotheby's, the exhibition's portraits of Freud from the 1950s stand as the most iconic and compelling images of the artist as a young man. Beaton posed Freud in many traditional Beatonesque settings – gazing through antlers, looking wistful and soulful – and the images place Freud within a historical landscape and with symbolic attributes which cast the artist as heir to a profoundly British, artistic inheritance.
Portraits by David Dawson
David Dawson was Freud's assistant for the last two decades of his life and is the subject of Freud's final, monumental work, Portrait of the Hound. Although Freud shunned the limelight, Dawson enjoyed the artist's trust to an extraordinary degree, and these photographs capture a normal life, forming a visual diary of the artist at work, relaxing with and revisiting old friends, and even shaving. The images are a vital record of the last years of this extraordinary man.