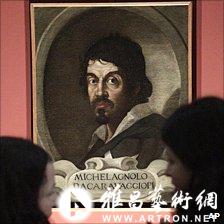 None of Caravaggio's earliest works were thought to have survived
Two Italian art historians say they believe they have uncovered dozens of sketches and paintings attributable to the Renaissance master Caravaggio.
The works are believed to date from Caravaggio's time as a student in Milan, Italian media reports.
They were previously ascribed to the archive of painter Simone Peterzano, with whom he studied from aged 11.
The pictures, which form part of the Peterzano archive, range from sketches of the body to religious scenes.
Violent life
A spokesperson for Milan's council urged caution about the find.
"The drawings have always been there, and have never yet been attributed to Caravaggio," Elena Conenna told AFP news agency.
"We'll be very happy to discover it's true. But it's strange. They weren't in a hidden place, they were accessible to all," she said, adding that she was not aware of a visit from the art historians in the past two years.
But, according to news agency Ansa, the pair - Maurizio Bernardelli Curuz and Adriana Conconi Fedrigolli - had been studying the paintings, scattered between several churches in Milan and the Sforzesco Castle for two years.
"It's impossible that Caravaggio left no trace of his activity between 1584 and 1588 at the workshop of a painter who was famous and sought after at the time," Mr Curuz was quoted as saying in La Repubblica, referring to the mannerist master Peterzano.
Speaking to Ansa, he added that the drawings demonstrated a "strong, quick but dirty hand" and showed "the faces, bodies and scenes the young Caravaggio would use in later years".
No paintings from the early years of Caravaggio - whose real name was Michelangelo Merisi - were previously thought to have survived.
The painter had a violent and chaotic life, dying in mysterious circumstances at the age of 38.