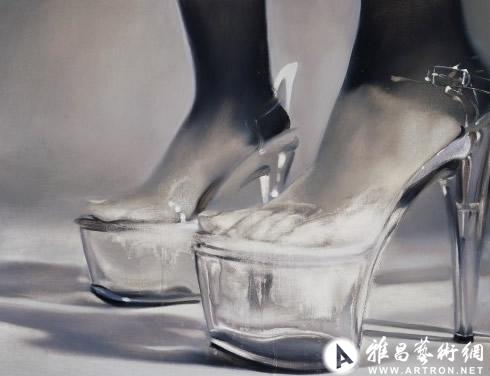 Song Kun, one of the country's most prominent young female artists, opened an exhibition at the Ullens Center for Contemporary Art earlier this month to showcase her creations of the last two years.
The 28 paintings and one video installation hang salon-style along the twin walls of UCCA's Nave. Long, black drop curtains on the west end of the exhibition make the space resemble a vast dream world – an atmosphere that plays well with Song' creations.
Her works include delicate jellyfish, stylish punk musicians and portraits, as well as a series titled A Thousand Kisses Deep. Many demonstrate an exploration of the abstract dominated by shifts between light and dark.
The technical studies of drifting light evoke a sinister, sensual beauty and the dual themes of carnality and spirituality.
Many viewers have been impressed by the dreamlike style of the video installation. The combination of electronic strings, muted vocals and the psychological narrative creates a distinguished atmosphere.
Song said her artwork is influenced by music and philosophy, and she always incorporates musical elements into works. "I listen to many kinds of music. Each is special and inspiring," she said.
The walls are separated by props such as crystal heels, exaggerated bottles and plastic sex toys. By exploring the quiet properties of natural materials, Song tries to explore the realm of carnality.
Born in 1977 in Inner Mongolia, Song began painting at the age of three and in 2006 received a Master's Degree in oil painting at the Central Academy of Fine Arts. She was also a founding member of the artist group N12, which included Qiu Xiaofei, Hu Xiaoyuan and Wang Guangle.
"For me, painting is like breathing. It goes hand in hand with eating and sleeping," she said.
Having grown up in an era of fast economic development, her nostalgic obsession with the commonplace sets Song apart from the political pop art of the era. Her works contain subtle criticisms and a muted mourning for something that has been lost.
"As a female artist, Song Kun is being herself. Her art stems from her daily life experience," said Philip Tinari, director of UCCA.
Earlier works provided glimpses into the narrative of her life by focusing on small romances of the ordinary. At her first solo exhibition, It's My Life, she produced 366 miniature paintings of the world as she observes it.
"I probe some issues from a woman's unique psychological and physiological perspective. The soul, belief, desire and control are all common to the human experience," she said. "But in all of these, a woman's experience is different."
The exhibition title comes from the song "A Thousand Times Kisses Deep" by Leonard Cohen, a Canadian musician born in 1934.
As one of her favorite songs, Song said its fierce emotions about religion, isolation, sexuality and interpersonal relationships fit modern Chinese society – what she tries to depict in this exhibition.
"China has changed a lot, and I think it is time to reevaluate, clarify and establish what we value and believe," she said. "That is why I want to explore the current state of the Chinese people: their love, belief, desire and greed."