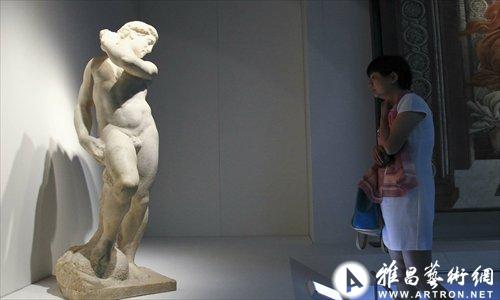 Michelangelo's David-Apollo in all its uncensored glory. Photo: CFP
There's more than meets they eye at a recently unveiled exhibition celebrating Italian art from the Renaissance era at the National Museum of China (NMC), even if China Central Television (CCTV) won't let you see Michelangelo's David-Apollo in all its nude splendor. Masterpieces by Leonardo Da Vinci and Raphael are also on display as part of the largest ever exhibition of Italian artworks from the 15th and 16th centuries in China.
Jointly hosted by the NMC and the Italian Ministry of Cultural Heritage and Activities, the exhibition illustrates the artistic styles, folk life and traditions of Florence during one of art's most celebrated historical periods. Altogether there are 67 artworks including paintings, sculptures and handicrafts, most of which are being shown in China for the first time.
The exhibition is divided into three sections, as well as a multimedia zone. The first section, "From Initiation of Renaissance to the Death of Lorenzo the Magnificent (in 1492,)" predominantly features frescos and sculptures, with the centerpiece an original blueprint of Filippo Brunelleschi's iconic dome of the Florence Cathedral.
The second section, "Renaissance in its Heyday and Protagonists," includes a wide range of artworks created between 1492 and 1540, while the third section, "Masterpieces," features celebrated artists' famous works, including Michelangelo's 1.46 meter-high marble sculpture David-Apollo, a self-portrait by Raphael and Sandro Botticelli's Adoration of the Magi.
Many artworks, particularly sculptures, are of nudes - one of the most identifiable subjects of the Renaissance era. A report on the exhibition aired on CCTV this week attracted controversy, after the broadcaster censored the penis on David-Apollo in its original story.
A poll conducted by online chat forum qq.com found 90.5 percent of more than 33,000 respondents weren't bothered by David-Apollo being aired on national television uncensored.
Lei Yulong, a 22-year-old college student who visited the exhibition, said he found "nothing improper" with the sculpture.
"I don't think there are any sensitive artworks at the exhibition. David-Apollo is a masterpiece. I only saw power and delicacy in it," said Lei. "The nudity is by no means erotic. I think we should all be more open-minded when it comes to art."
Xu Fuchun, a 32-year-old retailer, said she had no regrets about taking her 5-year-old daughter to the exhibition. "This is an excellent opportunity to teach my daughter about art, as we rarely have the chance to see such masterpieces," she told Metro Beijing. "I hope there will be more similar exhibitions in Beijing in the future."
The exhibition is being held as part of the Memorandum of Understanding on Promoting Cooperation on Cultural Heritage Protection signed between China and Italy in Rome in October 2010. In the memorandum, both sides agreed to exchange cultural relics and hold five-year exhibitions at national museums in both countries. "Renaissance in Florence: Masterpieces and Protagonists" is the first such exhibition under the agreement to bring Italian artworks to China.
The selected artworks hail from more than 20 Italian museums and art galleries. Chen Lusheng, vice director of the NMC, described the exhibition as "a rare chance" for Chinese visitors to view world-class artworks.
"Another four Italian art exhibitions will be coming to China over the next four years, allowing people to appreciate Italian art without going abroad," Chen said.
When: Until April 30, 2013
Where: Gallery N16, National Museum of China, east of Tiananmen Square, 16 East Chang'an Avenue, Dongcheng district
Admission: 10 yuan (closed on Monday)
Contact: 6512-8321
From Florence to Beijing