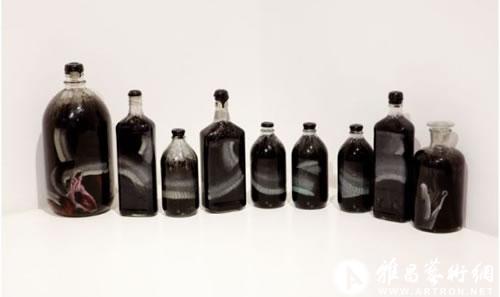 Although this edition of the Sydney Biennale has its flaws, which I discussed in my previous analyses of the exhibition for artinfo, there are some outstanding works of art that deserve a closer look. More likely to be remembered for the few truly amazing artworks rather than the experience as a whole, the exhibition is undoubtedly still a big success thanks primarily to the triumphant highlights.
One of the most engaging and awe-inspiring works of the exhibition is Liu Zhuoquan's Two-Headed Snake, 2011, a huge collection of bottles that have been inside-painted with haunting silhouettes of snakes. Resembling scientific specimen jars, the ghostly images painted on the bottle represent an object that exists in spirit, but not in flesh.
The overall range of video works selected for this edition of the Biennale is rather disappointing. There is, however, an outstanding example that more than makes up for the other less than engaging offerings. Guido van der Werve's Nummer Acht: Everything is going to be alright, 2007 makes use of the video medium to great effect with an incredible play on perspective that is thoroughly engrossing.
The groundbreaking use of animated black and white images on acetate to display the beautiful paintings of Aboriginal artist Nyapanyapa Yunupingu makes the work titled Light Painting, 2010 one of the most beautiful and surprising offerings. As the different images slowly change over, blending and bleeding together, the viewer is treated to a truly spiritual experience of time and place.
Architecture meets art meets biology in Philip Beesley's epic Hylozoic Series: Sibyl, 2012 installation on Cockatoo Island. The amazingly complex structure is both a feat of engineering and a wonderfully artistic expression of a thought provoking concept. Seeing visitors enthralled and amazed as the "interactive garden" comes alive in response to being touched and explored is an experience in its self.
Liu Zhuoquan
Two-Headed Snake, 2011
Glass bottles, mineral pigments, dimensions variable
Courtesy the artist and China Art Projects, Beijing
Judith Wright
A Journey, 2011
Found objects, dimensions variable
Courtesy the artist; Sophie Gannon Gallery, Melbourne; and Jan Manton Art, Brisbane
Photograph: Carl Warner
El Anatsui
Anonymous Creature, 2009
Found aluminum and copper wire, 241.3 x 609.6 cm
Courtesy the artist and Jack Shainman Gallery, New York
Nyapanyapa Yunupingu
Light Painting, 2010
Animated white paint pen on 110 acetates, dimensions variable
Liu Zhuoquan
Two-Headed Snake, 2011
Glass bottles, mineral pigments, dimensions variable
Courtesy the artist and China Art Projects, Beijing
Alwar Balasubramaniam
Nothing From My Hands, 2011–12
Fibreglass wood and acrylic, dimensions variable
Courtesy the artist and Talwar Gallery, New York and New Delhi
Ed Pien
Haven, 2007
Paper, ink, sound, video, live-cam, overhead projection
900 x 600 x 430 cm
Courtesy of Pierre-François Ouellette Art Contemporain, Montreal
Photograph: Richard-Max Tremblay
Guido van der Werve
Nummer Acht: Everything is going to be alright, 2007
Video, 10:10 mins, dimensions variable
Courtesy the artist and Luhring Augustine, New York
Philip Beesley
Hylozoic Series: Sibyl, 2012
laser-cut acrylic, Mylar, aluminium, copolyester, silicon, glass, shape-memory alloy, custom PCBs, LEDs, thin gauge electrical wire, 2000 x 740 x 400 cm
Installation view of the 18th Biennale of Sydney (2012) at Cockatoo Island
Courtesy the artist
Project team: Jonathan Tyrrell, Eric Bury, Martin Correa, Brandon DeHart, Susanne Eeg, Andrea Ling, Elena Moliotsias, Anne Paxton, Anne Sewell, Kristie Taylor, Mingyi Zhou, in collaboration with Rob Gorbet, Rachel Armstrong, Martin Hanczyc and Mark-David Hosale
This project was made possible with assistance from the Canadian Friends of the 18th Biennale of Sydney
Pinaree Sanpitak
Anything Can Break, 2011
Handmade glass, paper, music, motion sensors and sound system, dimensions variable
Courtesy the artist
Photograph: Aroon Permpoonsopol
Peter Robinson
Snow Ball Blind Time, 2008
Polystyrene, 250 x 300 x 120 cm
Courtesy the artist and Govett-Brewster Art Gallery, New Plymouth
Photograph: Bryan James