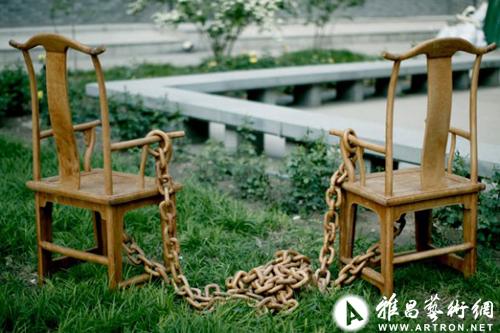 The term Jiang Qi (Chinese:匠气)which can be roughly defined as a style of working in which the emphasis is on technique, shows how the cultural mainstream harbors negative attitudes towards the crafts. In spite of this the craftsman's originality is praised, which creates a contradiction – the craftsman must have "xin" (referring to soul) and "qi" (referring to spirit), and "xin" is connected to "qi", so why judge it negatively?
For contemporary art with its disdain for technique, excessive self-confidence and addiction to concepts, the crafts are either regarded as being in opposition to the avant-garde, or serve as supplements in conceptual art expression. Apart from this, in mainstream contemporary art, meaningless and low-technique cultural productions are widely popular. In the history of the humanities, the masterpieces are still immortal, but will the skills and techniques which have contributed to historical developments in the arts evaporate in the new cultural environment?
Li Hongbo, Wei Ming, Wang Lei and Ye Sen were not expected to be spokesmen for avant-garde or contemporary art. Their artistic practice did not originate in concepts, instead it was based on traditional craft methods. However, they are well aware of their position in the art world, in the current multi-cultural and international era and with the rich inheritance of traditional Chinese culture. Consequently their works are not meant to create a mirage of the traditional farming culture of imperial China, but rather to explore the connection between contemporary spirit and creativity in order to establish a new means of creation. They no longer consider their art education as the only creative resource for their artistic expression, but instead they enter the lives of ordinary people and migratory craftsmen and look to techniques established in traditional workshops for inspiration.
Many people refer to Li Hongbo, Wei Ming, Wang Lei and Ye Sen as the "Big Four" in experimental art, which encouraged them in their artistic creations. Clearly, as contemporary artists, they cannot simply be craftsmen, but the impact of traditional craft techniques and spirit has strengthened their abilities.
Li Hongbo –Paper Gourd Garland Maker
Wei Ming –Damaged Objects Restorer
Wang Lei –Paper Towel Tailor
Ye Sen –Wood Chain Maker
Li Hongbo's work Flexibility (伸缩性) has attracted considerable attention both nationally and internationally, strengthening his confidence with further exploration of the paper garland technique. He created Old Bottles (古瓶), World (世界), A Tree (一棵树), Broken Wood (断木), Hard Stone (顽石), Weapon Analysis (枪的解析), in which he transformed the garland technique, an out-of-date traditional folk craft, into a contemporary means of expression. The latest work Hard Stone is based on real stones that the artist found. These stones have been polished by running water over them for thousands of years. Scars and marks are still visible on the smooth surface of the stones. During his artistic recreation, the artist turned the unruly stones into gentle forms, as if they are telling some sad stories. Weapon Analysis triggers memories of war and reflections on its horrors. Initially, the artist proceeded as if he were producing the kind of blueprints used in an arsenal for the manufacture of weapons. This approach soon underwent a rapid transformation as the weapons were transformed into rainbow colored plowshares, dangerous weapons becoming festive decorations for the viewer's delectation.