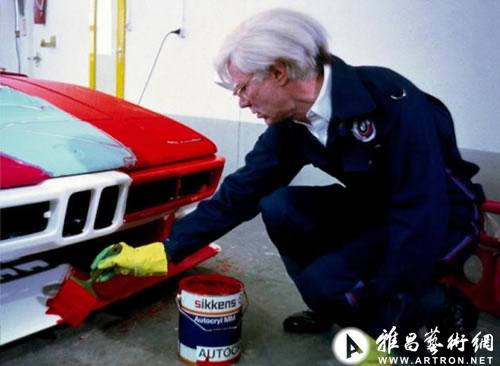 Who ever knew that in the last 37 years major artists like Andy Warhol, Jeff Koons and David Hockney were commissioned to execute paintings on BMW cars. Opening today, for two weeks, the ICA takes over an off site space in the East End with ART DRIVE! – an opportunity to view BMW's unique collection of ART CARS, for the first time in the UK. The Collection, initiated over 35 years ago, consists of BMW cars transformed into artworks by leading international artists, using the form of the car as their canvas.
ART DRIVE! BMW ART CAR COLLECTION, part of the London 2012 Festival, will see remarkable designs by some of the greatest names in contemporary art housed in an extraordinary venue, as the ICA occupies the brutalist Shoreditch landmark – The Great Eastern Street Car Park – as a temporary gallery space.
Renowned for nurturing innovation and new talent across the contemporary arts, the ICA has sought out some of the most exciting emerging names in design from the East End to help deliver this project. We're delighted to be working with Julia and Loop.pH , making a significant and original contribution to the Cultural Olympiad celebrations.
ART DRIVE! BMW ART CAR COLLECTION artists: Alexander Calder, Sandro Chia, Ken Done, Ernst Fuchs, David Hockney, Jenny Holzer, Matazo Kayama, Jeff Koons, Roy Lichtenstein, Esher Mahlangu, Cesar Manrique, M.J Nelson, A.R Penck, Robert Rauschenberg, Frank Stella, Andy Warhol.
The BMW Art Cars have also sprung from the world of motor sport. The idea was sparked when the French auctioneer and racing driver Hervé Poulain, wanted to combine two worlds. He spoke to his friend Alexander Calder and persuaded him to design a toy car and a scale model. He found an ideal artist in Calder, and in Joachen Neerpasch, then head of racing sport at BMW, he found a partner open-minded about art on the side of the company. The recognizable link between art and auto racing was crucial: many of the Art Cars have since taken part in the legendary 24 hour Le Mans race – even at the risk that this can potentially end in the artwork being destroyed. Despite giving some curators sleepless nights, this allows the artworks to prove their roadworthiness and racing ability at least once.
The Collection will show cars spread over six floors in the NCP Car Park on Great Eastern Street in Shoreditch. The project, which brings together BMW's excellence in car design and the ICA's passion for and commitment to art, will be a one-off opportunity for art and design lovers as well as car enthusiasts.
The BMW Art Car Collection was launched in 1975 as a unique artistic experiment. 37 years later it is still going strong and the concept has gradually formed itself into a collection, which to this day remaines unique in its nature in the automobile world. Several of the world's most renowned artists including: Roy Lichtenstein, Andy Warhol, Alexander Calder, Frank Stella, Robert Rauschenberg,Cesar Manrique, Jeff Koons,Keith Haring, Esher Mahlangu, James Rosenquist ,Jenny Holzer and David Hockney.
ART DRIVE - BMW Art Car Collection 1975 – 2010
21 July – 4 August
For two weeks only, the ICA takes over a 1960s Shoreditch landmark, the Great Eastern Street NCP Car Park, with ART DRIVE! - an exhibition of BMW cars transformed into artworks by leading international artists from 1975 – 2010, shown here for the first time in the UK.