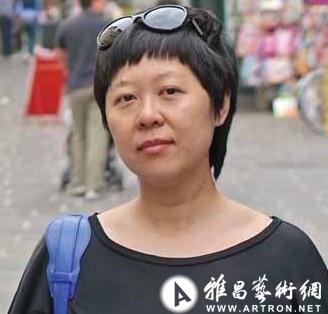 Above: Cui Qiao has her unique style in life and art design.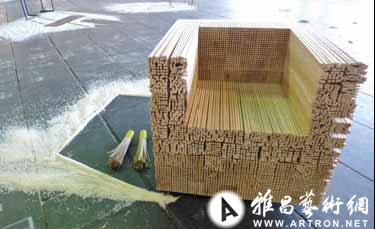 Below: The wooden comb in the form of sofa in Cui's studio. Photos Provided to China Daily
Arts organizer makes light work of increasing serious cross-cultural ties
On first impression, Cui Qiao does not look like someone who writes serious and profound articles about art, film and politics. She speaks fast and laughs a lot and her open enthusiasm and optimism are infectious. You can see why she's successful in cross-cultural exchanges, communication and generally getting things done - although her ability to lead a six-person team to organize about 500 culture programs each year at the Ullens Center for Contemporary Art can best be attributed to her German background. "I don't mind the standards of success many people in China aspire to now," she says. "I never worry about the results when I decide to do something. I just do what I really love."
Cui, 38, is the deputy director of the UCCA, a non-profit center founded in 2007 by Belgian art collectors and the largest of its kind in Beijing's 798 Art Zone.
Before that, she was the director of cultural programs at the Goethe Institute/German Culture Center in Beijing from 2006. She is also a film critic and a freelance curator and writer.
The first daughter of a calligrapher and a physics teacher, Cui says her friends regard her as a successful combination of sense and sensibility, thoughtful but adventurous.
When she was very young, just 18 months old, she traveled with her father, the calligrapher, to many countries. At 16, she took her younger sister to many Chinese historical cities on a 2-month holiday trip, an independence afforded to very few of their contemporaries.
After graduating from university, the 21-year-old Cui flew to Germany and studied at the Free University of Berlin. Typically, her first two years there were spent visiting many countries in Africa and Europe.
She returned to China in 2003, but continued to travel extensively. This time, her trips were aimed at bridging the cultural-communications gap between China and other countries. Much of Cui's work is in introducing significant foreign art, films and literature into China, and vice versa.
After graduating from the Berlin university in 2000, Cui had taken a job as the chief editor of a local Chinese magazine in the city.
One of her earliest works presenting the Middle Kingdom to the West was an article about China's new film directors published in the Berlin Daily in 2001.
The newspaper wanted to introduce China's new film directors to Germany but had no sources, so they asked Cui.
"I was only a fan of movies before," she says. "I did not know that much about China's new film directors because I had been in Berlin for years and knew little about things in China."
But her well-researched article opened another door for Cui. After the organizers of the 2001 Berlin International Film Festival read it, they invited her to choose Chinese movies for the festival. She worked for the festival for the following five years.
"It's a thing I found really strange," she says. "I never had the experience of looking for a job, but all kinds of opportunities found me. It's as if I had two angels standing on my shoulders taking care of me."
Whatever the reason, Cui's future always remained bright. One of the journalists at Life Week magazine, to which Cui used to contribute, said Cui was the only person she knew who was continually optimistic.
In 2003, when she came back to China, Beijing was shrouded in fear of the SARS outbreak.
"I watched the expressionless people waiting at bus stops and it was very sad. For me, life is always wonderful," Cui says.
Instead, rather than risk "tedious" work by entering a government organization, Cui planned her own cultural events. In 2004, she organized a photography exhibition for German film master Wim Wenders, and then in 2006 for Iranian film master Abbas Kiarostami.
"Kiarostami is my favorite film director and a genius," she says. "He influences me greatly. When I was sorting out material about him, I found that he is against violence in movies because people can gain no real thought or humanistic inspiration from violence, only momentary sensory stimulation, which lowers the standard of the movie as art. Now, because of him, I have no interest to see any horror, violent or action movie, which is for me a waste of time."
Cui found major sponsors for the Kiarostami exhibition, and it went on to tour nationally. She was obviously suited to the role, and shortly after it finished, the Goethe Institute in Beijing offered her a job organizing their cultural programs.
"At the beginning, I didn't want to accept it because I thought German organizations always work in a mechanical fashion, which I cannot stand," Cui admits. "But they told me that Pina Bausch, the German dancer, would come to China soon, so I accepted the offer because I am a huge fan."
Cui worked at the institute as its director of cultural programs until 2009. She now says she learnt a lot from the highly efficient German working system.
It was then that she joined UCCA as the deputy director, and has since led a team of six people in organizing more than 500 cultural events each year.
The latest project is an exhibition called Focus land: China-China New Design at the DMY International Design Festival in Berlin in June.
According to Cui, cultural exhibitions about China have mostly concentrated on traditional culture, such as Peking Opera or Kunqu Opera.
"Westerners lack a window to look at China's contemporary art, and 2012 is the Chinese Culture Year in Germany, so we cooperated with (the Chinese) Ministry of Culture to do such a cross-cultural event, after the Milan/Turino exhibition in 2011. We chose 138 pieces of works by more than 30 designers for the exhibition in Berlin."
Back in China, and looking, always brightly, to the future, Cui aims to keep up the good work - her own and that of others. At UCCA, there is a space provided especially for unknown young artists, often recommended by older artists.
"I hope we can give young people more space to display their talent, even if their works are not mature," she says. "I want to give them opportunities and I would like to break all kinds of possible biases."
The "biases" she refers come from the misunderstanding, usually by media, which arises between the East and West when viewing each other's culture. Often they have to do with perceived censorship and freedom of expression.
To address such issues, in 2010 Cui's team held a series of communication events between Chinese audiences and the Foreign Correspondents' Club of China.
"Those correspondents do not know the Chinese public so well," she says. "And most of their sources are not balanced enough, so that they find Chinese audiences are hostile, and Chinese people think that the reporters write only the negative side of China.
"I especially wish to break such biases. Things are different from what people imagine. There is always space for communication."
Continuing this mission and her busy work schedule, UCCA is co-hosting a trans-discipline culture festival with Life Week magazine in September. Titled "The Agora of Ideas", the event aims to put a greater intellectual emphasis on cross-cultural appreciation in all fields of art, including music and theater, with 25 lectures and talks, three films and two open-air concerts planned.
"The New Yorker magazine hosts a festival each year, which is very interesting, and I think in Beijing we can and need to do such a festival," she says. "Today we are overwhelmed by exploding, flashy information. We need to sit down and listen to thoughtful people talk about their opinions about the time we are living in."