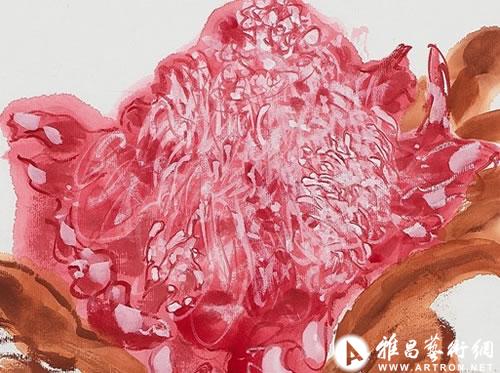 Exhibition Time: From December 22, 2012 to January 6, 2013
Venue: First Sound Gallery of 798 Art District
Host: Geese-Change Book Club, First Sound Gallery of 798 Art District
Academic Director: Wang Yong (researcher and PhD supervisor of Chinese National Academy of Arts)
Inscription: Wang Yong (professor and PhD supervisor of the Central Academy of Fine Arts)
Co-organizers:
Creative Centre of Chinese Artists Association, Beijing Office of Anhui People's Government, Art Academy of Renmin University of China, Dangshan County Propaganda Administration of Suzhou City, Anhui,Anhui Beijing Enterprise Chamber of Commerce, Shandong Artists Association
Introduction:
"Red Delight & Green Joy" Wang Qingzhou Art Exhibition will open in 798 Art District of Beijing on December 22, 2012, and end on January 6, 2013.
The exhibition will feature Mr. Wang Qingzhou's art with his fine ink paintings created by constant exploration of the nature in recent years. His works adopt various expression techniques such as traditional Chinese realistic painting, freehand brushwork in traditional Chinese painting, Chinese ink painting and heavy colors. The works are featured with bold use of colors, red and green, gorgeous finish, natural beauty, splendid but not tacky. The strokes are natural and plain, striving to be pure without over decoration. With integration of calligraphy and traditional pen and ink mode, he forms his own unique artistic language and infiltrated poetic imagery in his works, strengthening the abstract factors. His entire vision is beyond the limitations of time and space with both natural poetics and a pride of scholars, inducing the viewer's desires. It is also the deep understanding and the pursuit of unique vegetation floral beauty, and the charm with pen and ink that symbolize his works with contemporary ink paintings. Mr. Shang Yang wrote that: "Wang Qingzhou's paintings, colors, lines are of an infinite variety, just like plants' natural growth, unexpectedly growing into all kinds of shapes, presenting beautiful pictures of sound and vision".
The art of Mr. Wang Qingzhou is with broad vision and a strong sense of innovation. It emphasizes more on colors, while reserves ink at the same time. The painting is also difficult to classify, neither traditional boneless, nor Western watercolor paintings. Some are combinations of color and ink, while some are with full color operation of the entire work, totally different from traditional Chinese ink painting, providing a whole new visual experience for the viewers. His works are of rich bright colors, sharp, contrasting, elegant but not gaudy. They show an ease, joyful emotional tone. Like the "easy chair" the French painter Henri Matisse mentioned, Wang Qingzhou's works offer aesthetic pleasure for people. Thus the works are commented, by Mr. Wang Yong, a researcher of the Chinese National Academy of Arts, as the "Red Delight & Green Joy".