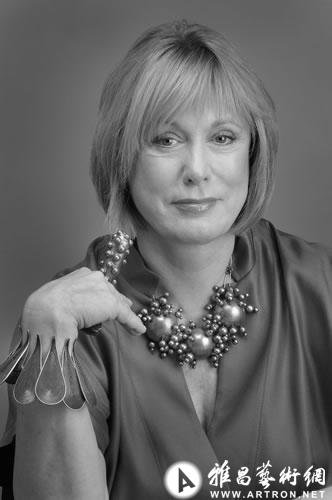 Portrait of Susan Beech. Photograph by John Wilson White. Courtesy: Susan Beech.
Susan Beech has been collecting contemporary jewelry for more than 20 years. Her enthusiasm and curiosity have contributed to shaping a new understanding of art jewelry, opening up new paths for its development and appraisal. An acute connoisseur as well as a devoted philanthropist, Susan Beech has succeeded in creating a diverse and varied collection, a true cabinet of curiosities featuring one of a kind jewelry that mirrors the spirit of our time as well as her own aesthetic values.
Manuela Lietti (Hereafter referred to as "M.L."):When did you start collecting and how?
Susan Beech (Hereafter referred to as "S.B."): I began buying art jewelry – also called studio jewelry and contemporary jewelry – in 1989. I had inherited my mother's traditional jewelry in my early thirties and I wasn't interested in buying more. We had recently moved from the East Coast to the San Francisco area in 1988 and I happened upon one of the few art jewelry galleries in the country, located in picturesque Mill Valley, across the Golden Gate Bridge from San Francisco. The gallery was owned and operated by Susan Cummins. I was excited to see a kind of jewelry that was unique and different from what I already owned. I began buying rings, necklaces, bracelets – and especially brooches. They still referenced traditional jewelry in form but had the unique look of the handmade object, as well as being artistic statements.
M.L.:What works would you identify as the starting point of your collection?
S.B.: I think there are stages in your journey as a collector. For a number of years I considered myself a buyer of unique jewelry, and probably in the last five or six years I would consider myself a serious collector of art jewelry. I've got a lot more serious about what I buy, and how I think about having a collection rather than interesting jewelry I can wear. But here's one answer to your question. On a trip to Seattle in 1988 with an art jewelry group, I found in my hotel room an image of a naked black man wearing a large neckpiece, the center of which was made out of American coins, quarters, with the word 'swine' cut out of the coins. Extending from the quarters were cast Barbie doll arms holding pearls. I was speechless. That necklace really made a statement and I wanted to buy it. I read the name of the gallery representing the artist, took a cab there, and bought the neckpiece. The title was Casting Pearls Before Swine by a Seattle artist, Nancy Worden. Before that, nothing I had purchased would stand out and mark me as an adventurous person, someone that people would stare at for what she was wearing on her body. After that neckpiece, everything changed.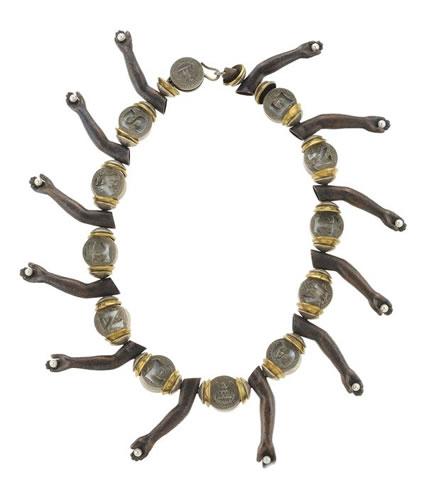 Nancy Worden, Casting Pearls Before Swine, necklace, 1997, 23.5x 3x 1 inches, silver, brass, pearls, mother of pearl buttons. Photograph by John Wilson White. Courtesy: Susan Beech.
M.L.:What are the criteria you follow to purchase a piece?
S.B.: It is a feeling of excitement in the pit of my stomach – call it lust, perhaps – when I first see an extraordinary piece of art jewelry. Then I do some research; find out where the artist went to school, who they studied with. I ask myself, is this piece unique, or do I think it is derivative? Then I think about how it will fit into and enhance my collection.
M.L.:What are the main guidelines of your collection? The pieces you like most, the pieces you wanted to have but somehow are not part of your collection yet?
S. B.: There is far too much great art jewelry out there to buy everything that I come across. I tend to focus on a handful of jewelry artists and follow their careers. The art or studio jewelry movement began in the United States and Europe after WWII, and really took off in the 1960s and 1970s. This means that many of the original artists are still alive. There are some masters and some mid career artists that I might have a dozen or so pieces by, and then there are a number of younger artists that I watch with excitement as to what direction they are heading in, and where their work might go next.
I have been to large fairs like Collect in London and have been overwhelmed by so much extraordinary jewelry. Yes, I could kick myself that I missed a number of great pieces, but then they have found a home with other collectors, and in some cases, with museums. On the other hand, I am thrilled that I own some of the most significant jewelry pieces out there. Occasionally an older piece comes up and I have a chance to purchase it, making up for missing out first time round.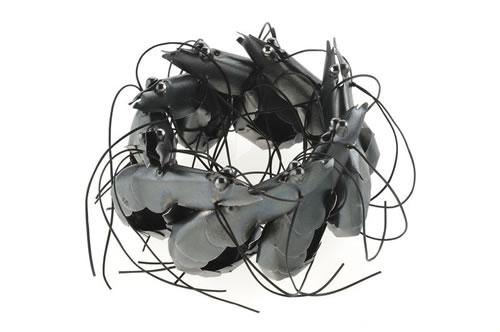 David Bielander, Black scampi, bracelet, 2011, 2 x 3.5 x 3.5 inches, sterling silver, nylon. Photograph by John Wilson White. Courtesy: Susan Beech.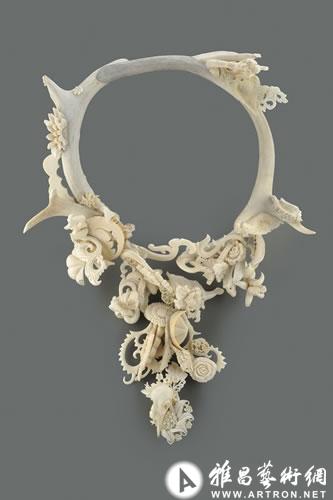 Jennifer Trask, Germinate, necklace, 2010, 16x12x5 inches, cow and ox bone, antler, nutria teeth, ivory. Photograph by John Wilson White. Courtesy: Susan Beech.
M.L.:Who do you trust? Do you work with a team of professionals that advise you, or do you prefer to decide on your own?
S.B.: I smiled when I read this question. To my knowledge there aren't any art jewelry consultants. Unless the piece is made of gold, or is by one of the masters in the field, the cost isn't that high for a first rate piece. Many outstanding works of art jewelry sell for under $5000, and very few pieces would sell for more than $10,000. By the time the dealers and artists get their share, there isn't enough profit to sustain anyone else. If the field becomes more popular and the prices go up significantly, then there could be a place for consultants and other professionals that you find in the fine art world. I usually just make my own decisions as to what I buy. If I am at a fair, I might walk around with a museum director or curator or with another collector or even a jewelry artist, and we will talk about the various pieces we see. Dealers will also getin touch and suggest pieces that they think might interest me, or would work well in my collection. And I also read a lot, which not only lets me see new work but also understand how it fits into the ongoing story of art jewelry.
M.L.:How important is it to interact directly with the artists, get to know them professionally and personally to evaluate their work?S.B.:I adore some of the artists I have met and consider them friends. Other artists I have heard speak about their work, or I've read articles and books about what they do. Overall, the jewelry artists are an educated, well-informed and opinionated group. With so much information available on the internet, I can find out what I need to know about an artist without actually having to meet them. I can make a connection to them through their work.
M.L.:Do you wear the pieces that are part of your collection? What is the most bizarre or peculiar piece you have ever worn? How do you display your pieces when you don't wear them?
S.B.: I wear art jewelry every single day, definitely more than one piece every day. A lot of collectors do wear their jewelry, since that is one of the great differences in owning this kind of art, rather than something that hangs on the wall. Jewelry crosses between private and public spaces when you wear it, and the triangle of wearer/object/viewer is one of the things that makes it a unique art form.
The most peculiar piece I wore for several hours at a craft show was a Lingam neckpiece by Ruudt Peters. It consisted of a long cord reaching below my waist with about six penises of various colors and sizes bobbing around. Walking through the show, lots of people stared. They couldn't take their eyes off the Lingam, but not one of them would look me in the face or ask me a question about what was hanging around my neck.
When I'm not wearing my jewelry, I keep it in specially made cabinets in my house. I had two large jewelry display cabinets in art deco style built by studio furniture artists in the United States. They are beautiful one-of-a-kind pieces of furniture, and house hundreds of pieces of unique art jewelry.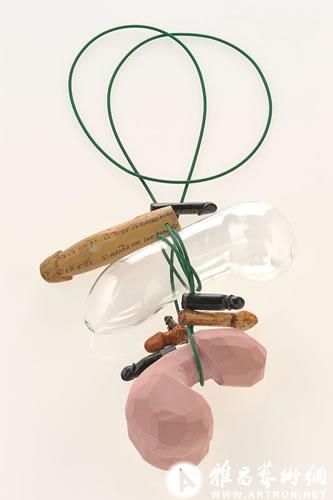 Ruudt Peters, Lingam #1, necklace, 2007, wood and glass. Photograph by John Wilson White. Courtesy: Susan Beech.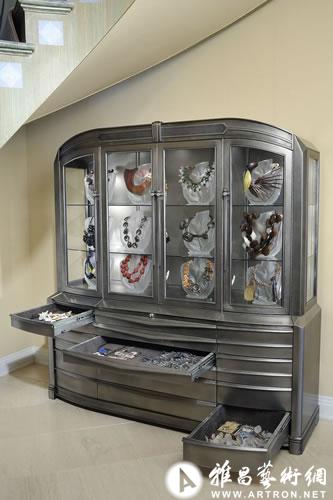 Jewelry Cabinet. Photograph by John Wilson White. Courtesy: Susan Beech.
M.L.:Do you ever sell any piece?
S.B.: No, I have never sold a piece from my collection. I have donated a number of jewelry pieces to museums, and at some point will donate my entire collection to a museum.
M.L.:Is there ever a time where you choose to buy something because it will relate to something that you have in the collection, it fills a hole or it connects to another piece you already have?
S.B.: Sure, and I will give you an example. Ruudt Peters is one of my favorite artists. On several different occasions older works of his have become available and I have had the opportunity to purchase these pieces, to fill in gaps in my collection. Now I have at least one piece from every series he has made during his long career.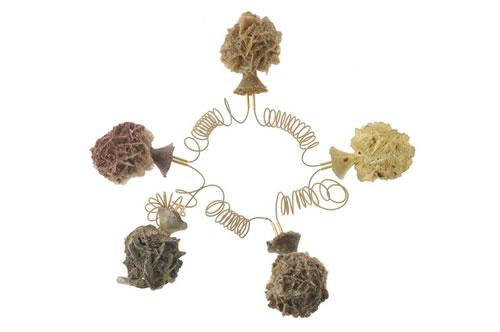 Ruudt Peters, Isis, necklace,1992, 4.25x1.75x1.75 inches, chain 27 inches, silver, gold leaf vessel. Photograph by John Wilson White. Courtesy: Susan Beech.
M.L.:What relationship do you see between the contemporary jewelry that you own and the contemporary art you own? How do you see these things relating to each other?
S.B.: There is a definite relationship. I like to collect a number of things. We live in a house full of art deco furniture, ceramics, bronzes, light fittings, and so on. We also collect contemporary ceramics with an edgy twist, surreal paintings and surreal photography. Sometimes I think the house is kind of like a walk-in cabinet of curiosity, filled with strange and enticing objects. You wear art jewelry, whereas you don't wear the other objects, but all of them are exploring artistic creativity and responding to ideas in the culture. They are all forms of visual art, although they have their own unique histories and concerns.
M.L.:How much does your collection cooperate with other institutions, for example the Mint Museum with which you are quite involved?
S.B.: When I buy a piece of jewelry I feel an obligation to loan that piece to museum shows. How sad to have an extraordinary piece that nobody would ever see again, except as a reproduction in a book or on a website.
A number of years ago I joined the Mint Craft Museum in Charlotte, North Carolina. At the time they had a director and curators, along with the Founder's Circle board, who were interested in promoting jewelry and starting a small permanent collection. I had the great pleasure to play a part in making that happen. The museum now has another director and I am happy to see they are continuing to buy pieces for their jewelry collection.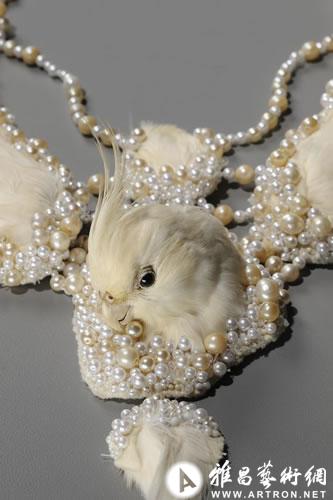 Idiots, Virgin, necklace, 2012, 28 x 8 x 3.5 inches, white parakeet, plastic, glass beads, felt. Photograph by John Wilson White. Courtesy: Susan Beech.
M.L.:Where do you buy your jewelry now?
S.B.: I buy most of my jewelry from a few galleries in the United States, and several galleries in Europe. I have relationships with them, and they know what I am looking for and what kind of pieces might be a worthy addition to my collection. If I am at a fair in Europe or in the United States, and I see something that gives me that feeling of excitement in the pit of my stomach, then I will buy from the gallery that is showing the work.
M.L.:How do you describe your "collecting motto'?
S.B.: It's quite simple, really. I want to get that tingle. I want to get excited about something original, well thought out, and beautifully made. The process of collecting all starts with that moment when you come face to face with something that is surprising and wonderful.