Manuela Lietti (Hereafter referred to as "M.L.": How did you become interested in contemporary jewelry? How did you decide to open a space focusing on this specific field?
Machtelt Schelling (Hereafter referred to as "M.S.": I have worked for the last 5 years on cultural exchange programs between China and the NL – my home country. And I know that to be able to curate, to organize, working with artists but also to be responsible for the business side were really elements of work that fit me. And, I love the applied arts. There is much more to it than only design and functionality. It is handmade in small studios; you are talking with bright, adventurous and handy artists. And there is another level than in visual arts, as there is this question of wearability and a very active exploration of new materials.
Of course I love jewelry myself – who doesn't – and couldn't find interesting jewelry myself in China, although I knew there are great jewelry designers coming from here. But it seems to be a lack of platform for them to show their work and develop it to the next level. As the market in China is ready for more unique pieces and more and more people have an eye for good design, I thought it was time for this gallery.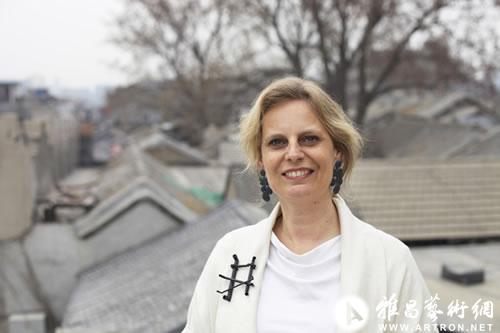 Machtelt Schelling, Founder of Ubi Gallery wearing a brooch by Hyeju Nam, and earrings by Shulin Wu. Courtesy: Ubi Gallery.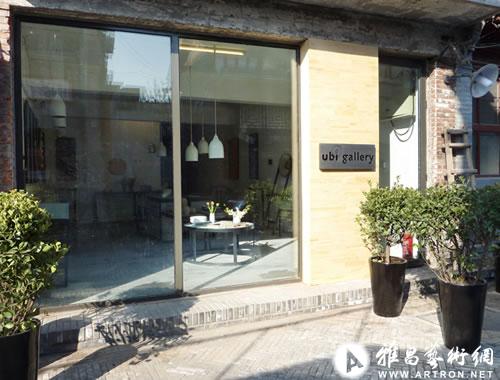 Entrace of Ubi Gallery. Courtesy: Ubi Gallery.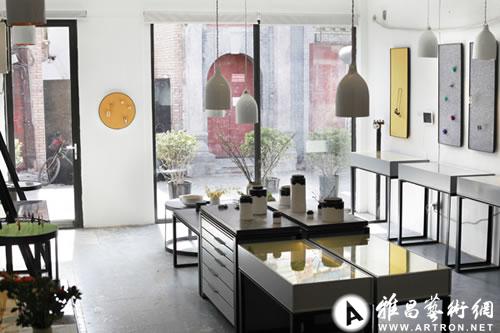 Interior of Ubi Gallery. Courtesy: Ubi Gallery.
M.L.: What is the artistic agenda of Ubi Gallery, a rather unique spot in Beijing's art scene? What are the core artists you work with?
M.S.: At this moment I work mostly on group exhibition on a specific theme, so the audience gets really an understanding of the variety and the quality of the different artists. The core artists are coming from Asia. As there are in the world more art jewelry galleries – but they are mainly focused on artists from Europa, Australia and America. I think it is good to show the Asian approach to jewelry.
One of the main events in the year in the area where I am located (Dashilan) is the Beijing Design Week, every last week of September and first week of October. This attracts thousands of art- and design lovers to the area and Ubi Gallery will show its best work during that week. During the year Ubi Gallery will be the starting point for many tours, who are exploring the area and want to know more about one of the oldest parts of Beijing. At the same time we can tell them more about our collection and introduce them the newest artists on display.
Besides that we are starting a lecture series for art jewelry students in Beijing. We want to continue our lecture talks by artists. And for the upcoming exhibitions I expect to present more artists from different areas of China; I am working on artists from Japan and will use this year to build up the network of artists.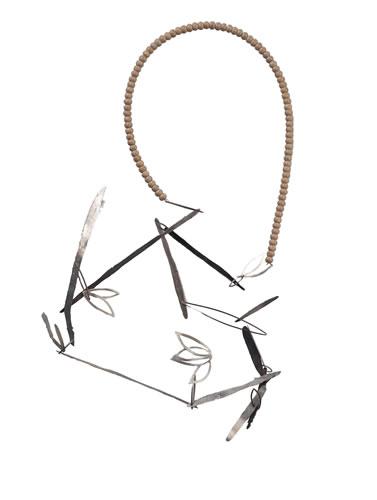 Zhao Xiaomu's work. Courtesy of Ubi Gallery.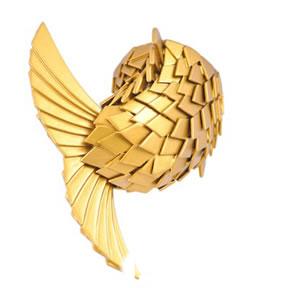 Jie Sun 's work. Courtesy of Ubi Gallery.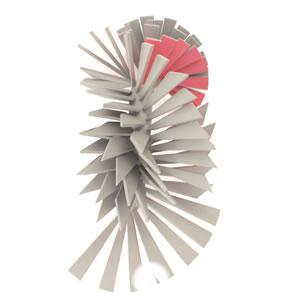 Jie Sun 's work. Courtesy of Ubi Gallery.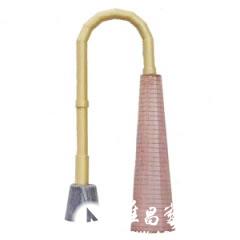 Hyeju Nam's work. Courtesy of Ubi Gallery.
M.L.: How do you select the artists you work with? What does an artist have to convey through his-her work in order to be part of your team?
M.S.: For Ubi Gallery I have selected small series of well-known European artists. Those are not unique but made in a limited edition, which makes it more affordable. But the main core of the collection are the unique pieces from younger Asian artists. I work with people with a professional background so everyone has a degree at the Art Academy, they had exhibitions before and showed a certain consistency in their work. It is about a mix of concept, material, visual result and functionality. But of course I also check the finishing and the quality of the pieces. You need to be aware of that part in China. Sometimes the picture of the piece is better than the actual piece and it should be the other way.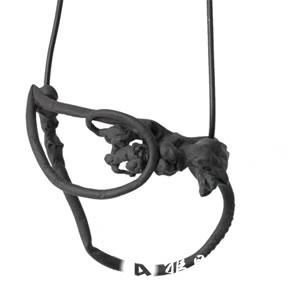 Ruudt Peters'work. Courtesy of Ubi Gallery.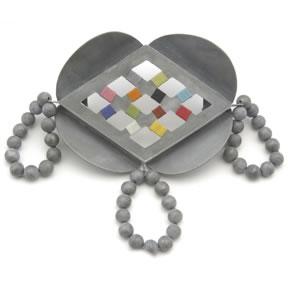 Lucy Sarneel's work. Courtesy of Ubi Gallery.
M.L.: Does a contemporary jewelry gallery function exactly as a contemporary art gallery? Do you take part or plan to take part in art fairs? Do you work with represented artists?
M.S.: Yes, it works in the same way as a contemporary art gallery, where fairs for your presented artists are a very good way to show collectors what is happening in your field. Very good and professional fairs dedicated to contemporary jewelry or crafts are now located in Europe. But you see good fairs in Korea and Japan as well. This year I am exploring the fairs in order to be able to join later.
The only big difference with a contemporary art gallery is the size of the pieces. That means that I am able to show everyone our stock during the year and you are less dependent on certain exhibitions.
M.L.: Being contemporary jewelry a rather new field in China, how does the public react towards the pieces on view, also from the commercial point of view?
M.S.: It is fantastic to notice that the Chinese audience is very curious. Most visitors spend a lot of time in the gallery and are not afraid to ask questions. Many questions are related to the material – what it is and why it is used for jewelry, instead of precious gold and silver. It is nice to discuss this with newcomers.
The buyers are at this moment mostly related to pieces they can wear and pieces that are unique and different from what you can find anywhere else. We started in November '12 and we can see a steep development of the business, as more people are able to find us.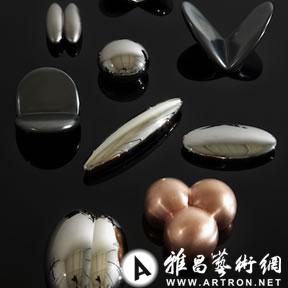 Noon Passama's work. Courtesy of Ubi Gallery.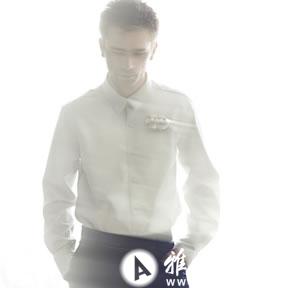 Noon Passama's work. Courtesy of Ubi Gallery.
M.L.: From where do your collectors mainly come from?
M.S.: As the field of art jewelry is relatively new to China there is not an existing group of collectors. The people who are buying pieces in the gallery at this moment are first time buyers. Most of them are working in the art field, or are collectors for visual arts. They are surprised by the power and use of material by the jewelry artists. Some are visitors from Europe who really want to bring some quality art pieces home and fall in love with the designs of Asian artists. Some are from China and told me that they don't have enough space for a big collection of paintings, so they love it that the art jewelry is small in size and that you can wear it. Others are from the fashion world and very much into fashion jewelry and love the quality of the concept of the art jewelry, which makes our pieces so different.
M.L.: Which type of cooperation with both local and international institutions do you envision for the future?
M.S.: I am now working on a cooperation with Art Academies on graduation shows. I am very much looking forward to this. And for the development of the disciplines it will also be great to start a yearly award where artists can send in new work. And I like to continue the series of lectures with the art academies – as this is the best way for artists to develop their idea of the market and the other side of their profession.
M.L.: What is your favorite piece of contemporary jewelry or jewelry in general? What are the 'must have' pieces in a collection?
M.S.: Actually those are things that changes over time. I am at this moment in love with some of the work from Korea. Very well made, great feel for details and material and with a subtle but present concept. The work of Shin Healim for example. In her series of leather pieces, she creates perpetual looking shapes. Leather is cut into thin pieces and repetitively quilted together as if weaving the organic material and time together. Leather as a skin itself reflects the change of time and the natural barrier between the living being and its environment. In this case the multiple layers of leather reflect the changes and isolation of time and space which the artist has endured and her determination to carry on with life. Her work results into pieces with amazing colours and subtle patterns of light and shade.
Or the work of a younger artists from Taiwan, Carissa Hsu. She makes brooches of embroidering meters. Many things in life are simple to understand through numbers and measurements, and many choices are made based on these numbers. But how to measure emotions? Carissa is seeking to objectify the impossible. By embroidering moments of life on textile and finding means of quantifying emotions, she depicts human relationships through established methods of measurements. Her brooches are not only beautiful but visualize a deeper thought on the importance of how we make decisions in life.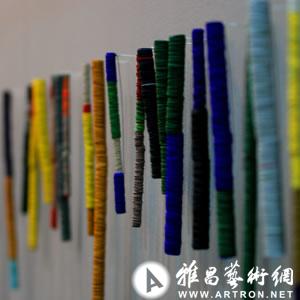 Shin Healim's work. Courtesy of Ubi Gallery.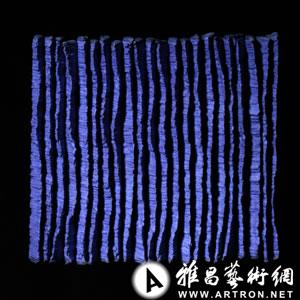 Shin Healim's work. Courtesy of Ubi Gallery.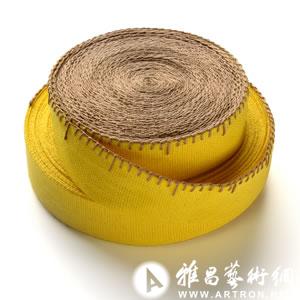 Carissa Hsu's work. Courtesy of Ubi Gallery.
M.L.: Do you wear the pieces on view at the gallery, as well? What is the boldest piece you have ever worn?
M.S.: If possible I will buy a piece of most of the artists I present, in order to wear it in the gallery, but also outside the gallery to show people who are not familiar with art jewelry. For one event I have used a huge piece of Moon Choonsun with black and yellow, which attracted a lot of attention. But I also bought some pieces which are awesome, but maybe a bit difficult to wear for daily occasions. Those I put on the wall in my house – so I can enjoy it every day. And compared to other art disciplines – the pieces are not expensive and very good to start with when you build up a collection.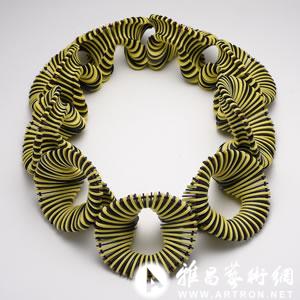 Moon Choonsun's work. Courtesy of Ubi Gallery.
M.L.: Do you have any advice for the ones who are curious about contemporary jewelry and would like to start a small collection, or at least buy their first piece?
M.S.: For every art piece you will buy, you need to love it and be triggered by it. Ask questions about the other work of the same artist and see for yourself why you like the piece so much. Many people love to know more about the material, how it is made and the concept behind. In the gallery we have knowledgeable staff that loves to tell you more about this.