Poster
With the supporting and endorsing of the school of Contemporary Oriental Art Research Centre of Architecture and Art Central South University and Hunan Artist Association, the dual solo exhibition by professor Paul Croft (who is from Aberystwyth University) and professor Yu Lu (who is from South China University)——'Jie(means border)' is organized by this two universities. It was exhibited at Changsha city, in China in May 2014, then it will be exhibited in Wales, UK in October 2014. The unique Chinese word 'Jie' has multiple meanings such as 'limit' and 'border' etc. This will be a profound international printmaking communicating exhibition.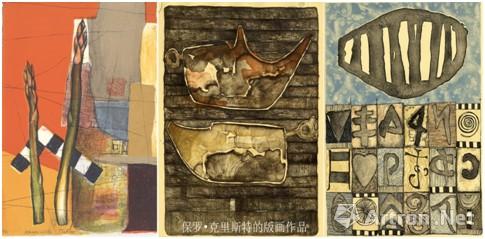 Three prints by Paul Croft
'I don't paint, I draw'
Professor Paul Croft is one of the protagonists of this dual solo exhibition. He was training at Edinburgh College of Art during 1981-1986 and graduated with Bachelor's degree of Art and post graduate in Drawing and Painting – specializing in Printmaking. In this exhibition, there are two series of art works presented to the public – Alphabet & Lexicon series and Les Amulets à Musée series. At the first sight of his art works, it is easy to be attracted by his color and symbols. It seems like you were visiting a museum, a variety of historical relics is presented to your sight. Not surprisingly to have interested in his works, you may even wonder how powerful the historic culture was in the past.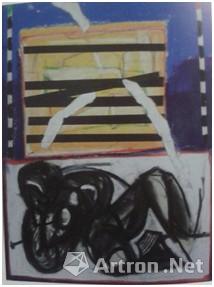 Croft's work
'In terms of language it has never been quite clear that these motifs have any specific or literal translation in the sense that one object or element means this or that.' Paul Croft suggests that some shapes do have distinct meaning, association or relationship to memories, feelings, places, and in some cases to specific individuals. So perhaps in that sense, marks made in charcoal, pencil and ink articulate a moment in time – recording through gesture and composition, mood, personality and issues that were current at the time of conception.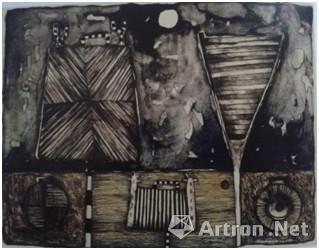 Croft's work
As an experienced artist, Paul Croft is stick to the originality of printmaking. None of his work is just simply copy from the photo. 'I don't paint, I draw,' He has been assiduous in keeping detailed sketchbooks that form the backbone of his inspiration. He draws meticulously, obsessively, making careful notes as he goes along, following themes, but allowing himself to be surprised by unexpected.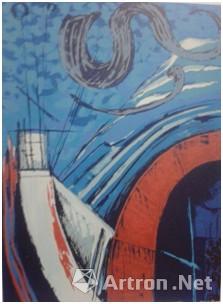 Croft's work
Paul Croft produces quiet work, sometimes even unassuming, but for those who choose to take the necessary time to engage with the prints and of color and composition, to enter as it were into a meditative complicity with them.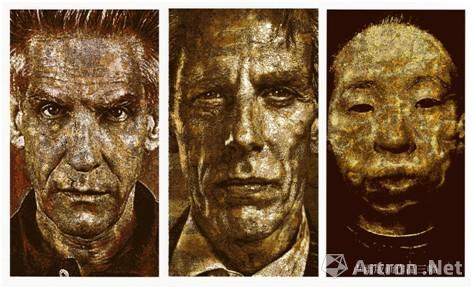 Three prints by Yu Lu
'Print has a hopeful future'
Professor Yu Lu —— Who is a Professor of Architecture and Arts school of Central South University ——The other protagonist of this dual solo exhibition. He achieved Master's degree from the department of oil painting in Chinese Central Academy of Fine Arts in 1997. He was the visiting scholar to France sent by Central South University of Technology on invitation of the French International Art City in Paris, France from Nov 2002 to Jul 2003.
By looking at Professor Lu's prints, you can feel the rational spirit in it. His pursuit of art is religious but clinging. In this exhibition, by the contents and forms we suppose to divide the constitution of Lu's prints into the following four basic types:
1.The retrospect of history that reflects the painter's favor of the past and the yearn for traditions.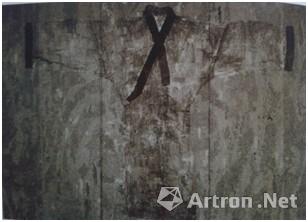 Yu Lu's work
2.The latest recounting of present magnificent themes. He always delivers the information in his life to the appreciators through idiographic language of art, the magnification and recombination according to his own feelings and needs for expression. Thus, the purpose of communication is achieved, meanwhile, spectators are aroused to rethink it.
3.The passionate seizing of the body art. Besides the effectiveness of spice, the passionate seizing is actualized by an extraordinary meaningful form of language of print. This is a masterly coalescence of the abstract punctuate notches and true-life objects, these punctuate nicks twinkling and bounding around frondose subjects make his prints alive with fluctuating rhythms.
4.The adoption of abstract way of the expression for presenting imago with arbitrary and effortless exertion of cuts with shadow leaping and passion pervading, let the audience experience the sense of beauty through the flowing structure and perceive their mind, and delights their photoreception at the same time.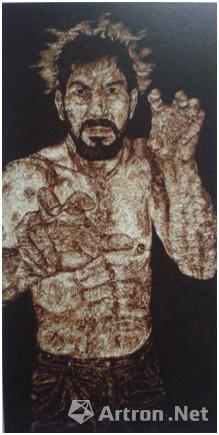 Yu Lu's work
'Prints derived from Chinese traditional art of printing, it had a very brilliant moment in the Chinese history.' Professor Lu said 'On the visual point of view, it is possible to make a huge size prints by printing skill. Although the material feeling of printing is not as good as painting, with the improving of printing skill and 3D print technology, printing art works can do whatever you want in the future. So I believe, there will be more and more fine art printmaking be born. That time has not come yet, it needs a large of artists who can endure dull and lonely art career to push it. By the time, some of original print artists can create more striking pieces. Print has a hopeful future.'