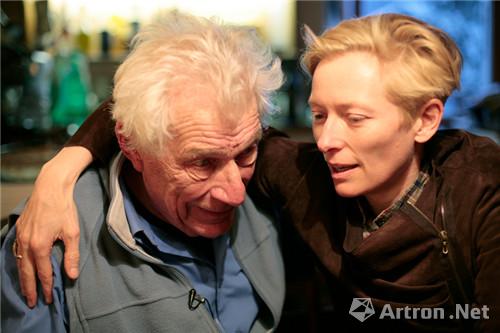 John Berger and Tilda Swinton in The Seasons in Quincy: Four Portraits of John Berger.
SANDRO KOPP/COURTESY ICARUS FILMS
WEDNESDAY, AUGUST 31
Screening: The Seasons in Quincy: Four Portraits of John Berger at Film Forum
A documentary about John Berger sounds interesting enough, but as a further sell, let us add that, in The Seasons of Quincy, Berger draws Tilda Swinton's portrait while she peels apples. This film is an offbeat look at the famed art historian behind the game-changing 1972 BBC television series and book Ways of Seeing. Directed by Colin McCabe, Christopher Roth, Bartek Dziadosz, and Swinton, The Seasons of Quincy shows Berger in his home in the French Alps. Rather than being a typical talking head–style documentary, this film comes in the form of four essays interspersed with footage of Berger's past TV interviews. The Seasons of Quincywill screen at Film Forum every day through September 13.
Film Forum, 209 West Houston Street, 12:45 p.m., 2:45 p.m., 5:00 p.m., 7:10 p.m., and 9:20 p.m. Tickets $8–14
THURSDAY, SEPTEMBER 1
Screening: Rashomon at Metrograph
Akira Kurosawa rightfully won the Golden Lion at the 1951 Venice Film Festival for Rashomon, a samurai movie that revolutionized storytelling. A simple story is told in a complex way: the murder and rape of a samurai's wife is told several times over, from several different suspects and witnesses. Shot with dynamic black-and-white compositions, the film shows that the truth is a slippery concept. How can we ever believe anyone when there are so many perspectives on a given matter?
Metrograph, 13 Ludlow Street, 4 p.m., also screens at 6 p.m. Tickets $15
Happening: "Black Women Artists for Black Lives Matter" at New Museum
Done in connection with the New Museum's Simone Leigh show, this event is held in solidarity with the Black Lives Matter movement. A little over a month ago, over 100 black women artists formed a collective at the New Museum called Black Women Artists for Black Lives Matter, or BWA for BLM for short. To honor the collective's principles, many of which involve ideas about visibility and action, the museum will be hosting an evening that includes performances, digital works, participatory exchanges, and a healing workshop.
New Museum, 235 Bowery, 4:30–8:30 p.m. Event is free, but requires RSVP at the New Museum's site
FRIDAY, SEPTEMBER 2
Screening: Portrait of Jason at Anthology Film Archives
For this documentary, which Ingmar Bergman once called "the most extraordinary film [he had] ever seen," Shirley Clarke held a 12-hour interviewed Jason Holliday, a gay, black hustler. Holliday his narrative life story and, in the process, brings up issues related to the gay community and black Americans. At certain points, Clarke and her crew interjected, insulting Holliday and gradually turning him into an abstract persona composed only of prejudices. Portrait of Jason screens here as part of a series about surveillance and visibility.
Anthology Film Archives, 32 Second Avenue, 9 p.m. Tickets $7–11
SUNDAY, SEPTEMBER 4
Concert: Exo-Tech at Pioneer Works
As part of a series of experimental-music concerts, Exo-Tech will perform at Pioneer Works this (relatively sleepy) weekend. Formed in February and featuring 12 musicians, this band brings together avant-garde sounds with free jazz. According to a blurb on Pioneer Works's site, the band "travers[es] fields somewhere between Talking Heads, Can, The Knife, and the Art Ensemble of Chicago." Buy your tickets now, because if you purchase them online, they're a few dollars cheaper than getting them at the door.
Pioneer Works, 159 Pioneer Street, Brooklyn, 6 p.m. Tickets $15–18
Screening: Inherent Vice at Museum of the Moving Image
Many people probably wouldn't count Inherent Vice (2014) among Paul Thomas Anderson's best movies, but this film is still well worth its two-and-a-half-hour runtime. Told with the logic of a drug trip,Inherent Vice is ostensibly a neo-noir based on Thomas Pynchon's novel of the same name. The film stars Joaquin Phoenix as Doc Sportello, a private detective whose ex-girlfriend lures him into a larger conspiracy surrounding a real-estate tycoon. After a while, the plot becomes overly complicated and Airplane!-style jokes—one of which involves Josh Brolin suggestively eating a banana—ensue. Inherent Vice will be shown here on 70mm.
Museum of the Moving Image, 36-01 35th Avenue, Queens, 7 p.m, also screens on September 3 at 7 p.m. Tickets $5–15