Artist Luoyi lives in Beijing, these years whose art has gradually been loved by some overseas collectors and galleries. In April 12th. 2017, she and her art arrived on the Nasdaq, Manhattan, New York.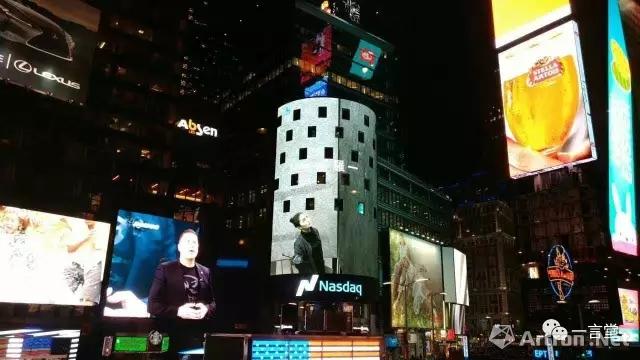 I just can say that Luoyi's art has a kind of staying attraction. As with all good art, the more you see them or live with them, the deeper the imprint, the stronger the impression. I consider Luo Yi, with her talent, and relentless perseverance, a great artist.--Mr. Borgonjon
Luo Yi certainly deserves a wider audience, and her work transcends national barriers, so I do hope to see more of these captivating images coming to Western shows and collections.-- Alastair Campbell
New York, I am here!
By Luoyi
Every time when I wrote a letter to Suzanne in New York , I promised in a determinate tone, "I will go to New York soon", but I lost my words again and again and later I felt too embarrassed to contact her. Today, I especially want to tell Suzanne, "New York, I'm really here."
My New York fate started from three years ago.In that summer I have not made my first solo exhibition, and have not so many friends of collectors around the world .I haven't today's self-confidence and my spoken English was poor.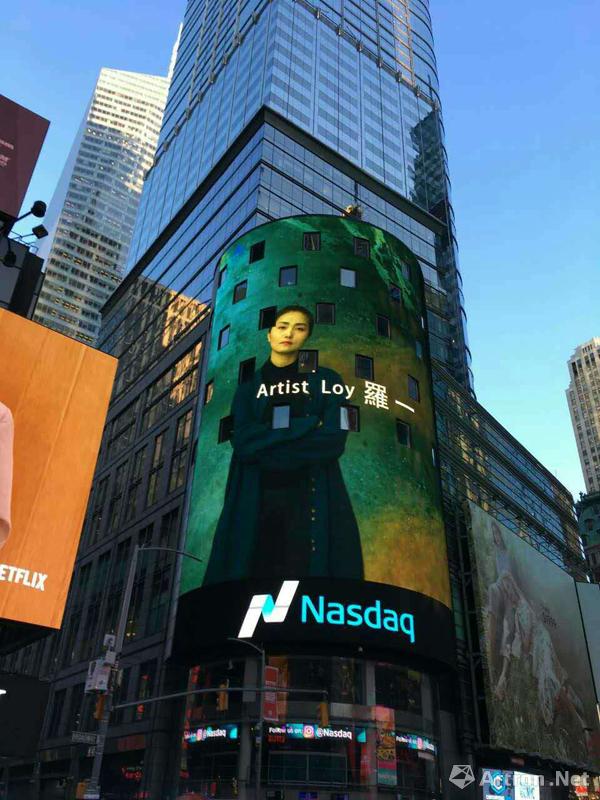 One day, Suzanne, a New York artist, rode a bicycle to my studio with her friends. At first sight, she said she loved my works. She was devoted to watch them, so I felt warmth in my lonely heart. She explored enthusiastically the artistic ideas and characteristics with me, so I got a flash of hope in the haze.
She is not only an artist but also a curator; she is not only from Europe, but also from New York; her every word is like a torch, detonating the energy in my heart. She said: "Loy, you should go to New York where you will meet more people who really love your art, I think it is much better than your state of indifference in China ." she knew my situation only in one glance at my works. She praised my subtle performance of the color and she said she could get the quiet and deep religious feelings in the pictures. Seeing my art got so highly approval from a New York's curator, Mrs.Patty and Mr. Mark ,who introduced Suzanne to me, were very happy at that time . The second day I went to see Suzanne off, on the way to the airport we talked just like we were old friends. At the checkpoint, she looked t me with her warm and complimentary eyes, "Loy, you are so beautiful, keep your state and find true love." we hugged in tears and said goodbye .
Several months later, she heard the news of my solo exhibition, she was very pleased. Especially in the busy days, she still wrote reviews for my exhibition. Just for an article of review, there are more than ten times of mail communication back and forth . Sometimes I really did not know whether I was happy or confused, why I was so lucky to meet such a pure heart. In the network communication, she said many times, "Dear Loy, come on, come to New York, I will do what I can to help you, I'll help you into the art circle in New York, I can not guarantee anything but I believe you will certainly find a lot of friends here because of your artistic talent.".
Many time I promised her I would go to New York as soon as possible. She even asked her friends to inquire studio residency program for me .But over the past three years, I still didn't go to New York, so I didn't know how to face her and made less contact with her. With the accumulation of time her friendship is more like a mountain and her sincere praise has engraved deeply in my heart and made me always remember this hospitality from New York .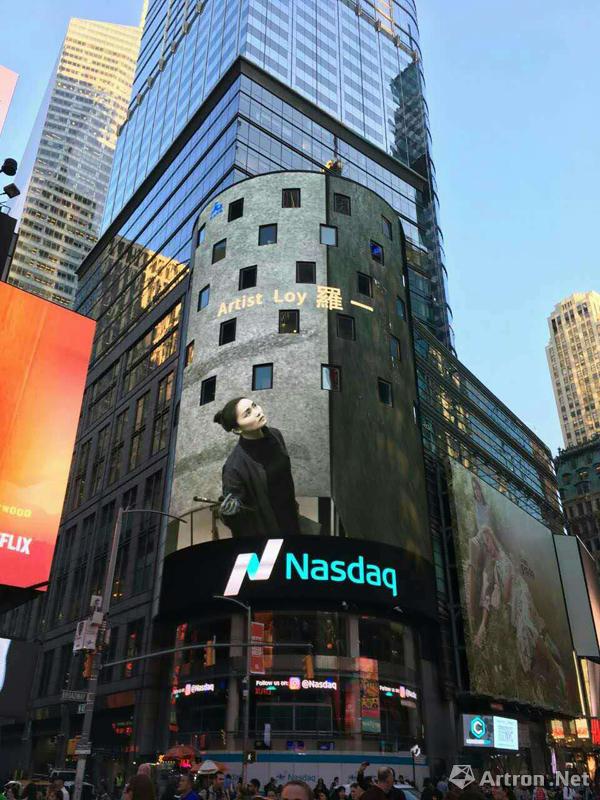 In fact,, it is not true that Loy can't immediately go to New York, what she wants is to take root deeply into her own piece of soil .First of all; Loy is China's Loy ,then she is Europe's, New York's and the world's.
Maybe God had feeling. God sent Mr.Gao qiang to give me a big chance to continue my New York's fate . New York, Manhattan, NASDAQ, Loy is arriving. Although this time Loy herself didn't come , her images were in the air of the New York Times Square , the world's most remarkable place. If I could make a sound when I stand in the air, I would say, "thank all my friends, thanks for the deep friendship to artists from all over the world! Respecting and loving art is the most wonderful thing in the world which make the world full of hope!"
Luo Yi's Poetic Vision
By Suzanne Russell
Several months ago, I traveled from Copenhagen to Beijing to look at contemporary Chinese art. I bought a cheap bicycle and started out to visit galleries and artists' studios with my best friend, who is also an artist and curator. We saw a wide range of work, mostly expressive figurative paintings made by women artists. What surprised me the most was the passion with which the good, and not so good, artwork was made. I did not expect Chinese artists to be so intense and individualistic in their expression.
The most interesting artist I visited was a fierce woman named Luo Yi. I visited her studio on my own, without my friend. Because we spoke together without a translator, I know very little about Luo Yi's life. I learned that Luo Yi has a Master's Degree from the Beijing Institute of Clothing Technology from the Department of Plastic Arts; she studied painting, sculpture, and art theory. I understood that Luo Yi has been making artwork fulltime for over ten years. But most what I know about Luo Yi, I know from experiencing her spacious studio in Black Bridge, watching her graciously prepare tea, and studying her powerful artwork. Luo Yi is a multi-talented artist, both a painter and a sculptor. She also boxes and plays the seven-stringed Guqin, a traditional Chinese instrument from the zither family. The fact that Luo Yi's art studio has both a professional boxing bag and a delicate string-instrument reveals a lot about the sensitive artist who packs a hard punch with her artworks.
As an American artist born in the 1960s, my first exposure to art was through abstract art. I have feasted my eyes on the work of all the greatest abstract expressionist painters from Jackson Pollock, to Mark Rothko, to Willem de Kooning. I have appreciated the sculptures of David Smith, Louise Bourgeois and Isamu Noguchi. My favorite artists growing up were Joan Mitchell, Helen Frankenthaler and Susan Rothenberg. Abstract Expressionism was my first love, a way of experiencing the world that fills me with nostalgia.
But Luo Yi's artwork is not old-fashioned or nostalgic. Before visiting Luo Yi's studio, I often wondered if the possibilities of abstract expressionism had been exhausted. But standing in Luo Yi's studio on the outskirts of Beijing, looking at her non-figurative paintings and sculptures with their highly emotional use of form and color, I could see that abstract expressionism is still a relevant way of communicating. Luo Yi's artwork is original, engaging and very contemporary.
Luo Yi most recent paintings appear to be monochromatic, or with a limited color pallet, but they are not. Using many different colors, Luo Yi carefully layers the oil paint to produce textures that reveal bits or blobs of earlier layers. The colors are harmonious, the changes in color are subtle, and the experience of looking at the paintings is uplifting. Most of Luo Yi's paintings measure around 150 x 120 cm., a bit smaller than many of the original Abstract Expressionists' paintings. Both the size of the paintings and the thickness of the paint make the paintings feel compact.
Each painting takes great risks and, at the same time, reflects great restraint. Each painting requires careful looking and painting, lots of time, and many layers of paint. Each painting takes Luo Yi down an unfamiliar road to a place that she has never been before. I was not surprised to learn that Luo Yi listens to Mahler when she works. Each painting feels like a leap of faith.
Luo Yi most recent sculptures are also reminiscent of Abstract Expressionism, but, again, reflect the artist's intensely original vision. The nine sculptures, each named after a poem from the Book of Songs, are both graceful and powerful. They are abstract, organic forms that elegantly twist and turn to suggest a figure, or a limb, or a fist. They are all approximately the same size, 60 centimeters tall. Every viewpoint and angle has been considered and tweaked so that the eye dances around the different surfaces in seemingly endless patterns. Like the poems in the Book of Songs, the group of sculptures serves as a study in rhythm, using elements of repetition and variation.
Luo Yi told me that when she starts to make an artwork, she sometimes feels like she is a prisoner in her own body and mind. As she works, she becomes less self-conscious and freer. By the time Luo Yi finishes an artwork, she is in perfect harmony with the universe and the artwork is the result of this artistic meditation. This is how I feel when I look at Luo Yi's paintings and sculptures; their beauty moves me and I experience a deep feeling of well being and peace. What experience could be more valuable in the world today?
Luo Yi
2010 Graduated from Beijing Institute of Fashion Technology, MA
Former art teacher at Beijing Institute of Science and Technology Management
Currently artist in Beijing
Dabbles in painting, sculpture, poetry and art criticism
Solo Exhibition
2016 "Dancing"- Luo Yi's Painting and Prints, Rome, Italy
2016 some Party Shows in Berlin, Germany
2015 "Suspending"- Luo Yi's Painting and Sculpture, Ning Space Gallery, Beijing
Group Exhibition
2016"Poetic•Dielectric domain" 2016 Contemporary Chinese Abstract Sculpture Exhibition, No. 22 Street Art District, Beijing
2016 When Wine Meets Art as Particles, Sanlitun, Beijing,
2015 "As Good As It Gets", Invitational Exhibition from Shangyuan Artist Village, Chinese Businessmen Museum, Beijing
2015 New Year Salon Exhibition, College Power Art Center, Shenzhen Luohu Museum
2014 Chengdu International Art Exposition, Chengdu, Sichuan
2014"Images,Trio-Show", West-East Gallery (Swedish), Beijing
2014 New Year Salon Exhibition, Kuper Gallery (German), Beijing
2013 Beijing Quintessence Garden "Zen" Exhibition, Beijing
2013 Sino-French art exchange exhibition, Fontenay, Vendee Province, France 2012 The 5th Top Asian Art Show,China World Trade Center, Beijing 2011 "Type, up and down" Invitational Exhibition, Beijing institute of Fashion Technology