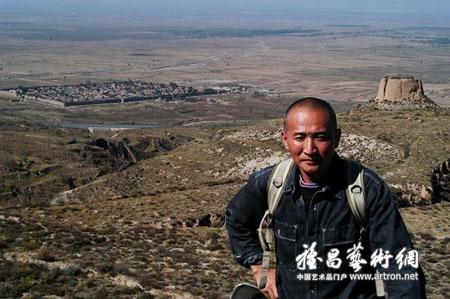 Related: Flowers of Life--Contemporary Papercut by Qiao Xiaoguang
Leaming: Briefly describe the history and development of the papercutting tradition in China.
Qiao: Judging from relics of the South and North Dynasty (317 – 589 A.D.) the tradition of paper cut- ing has existed for at least 1500 years. Records of papercutting in ancient documents date back to the Han Dynasty. The origin of papercutting as a cultural concept has existed since the Bronze Age (2000–771 B.C.). However, papercutting should seen in conjunction with the invention and development of paper, which stimulated the development of Chinese culture, not only with respect to typography, but also the influence that paper itself brought to the culture. Papercutting was designed to demonstrate faith in survival. It manifested beliefs, traditions and living styles because it served as a medium for auspicious wishes. Papercutting is very common in China,; there are more than twenty ethnic groups who practice the tradition of papercutting. It is a special kind of art. On one hand, it affects people's hearts, and on the other, it augments visual habits. That is an important reason why I chose papercutting. I wanted to make it a living contemporary art form. I am undertaking to find a way to make a traditional and classical art form achieve its rightful position in contemporary art by reflecting modern cultural conditions.

Leaming: Briefly discuss when, where, why and how you became interested in the folk art traditions of China.
Qiao: Perhaps it was destined. When I graduated from university in 1982, I was sent to work in Hen Shui, Hebei Province. It was close to Wu Qiang, the place where New Year posters were produced. I was surrounded by an atmosphere of folk arts. I think I was born in the right place at the right time. I was full of passion and wanted to create something great when the door leading to the path of papercutting opened to me. The scenery inside was gorgeous and fantastic. I can only use the word "lucky" to explain this.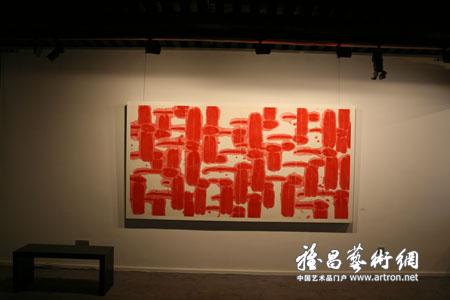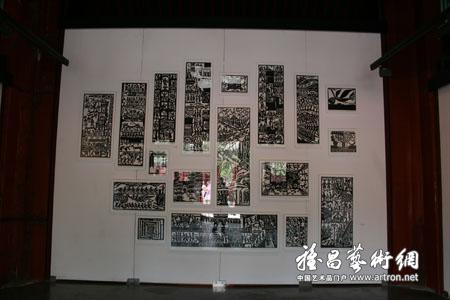 Qiao Xiangguang's solo exhibition of contemporary papercut at One Moon, Beijing

Leaming: When, where and how were you trained to become a folk art artist?
Qiao: Folk artist? I like this name! It was folk art and many pearls in life that instilled in me the values I hold towards culture. In 1988, I entered the masters program in the Folk Art Department at Central Academy of Fine Arts in Beijing. There I met academic experts who approached folk art from an analytical and intellectual perspective. For me, the daily lives of ordinary people were not an abstract concept. Abstractions dissolve meaning. It is not appropriate to judge people from above. Instead, we should get close to people, to feel their warmth, kindness as well as their sorrows. Only art that derives from this kind of experience will be accepted by the general public.

Leaming: Are there other folk artists whom you admire or who mentored you?

Qiao: Yes. Ms. Zhang Zhaolin from Fuxian, Shaanxi was the first. Her grave suffering and tumultuous life gave her a uniquely strong will, and her marriage to a shepherd in the sunset of her life nourished her passion for paper- cutting. She changed her creative style and embraced a newfound freedom in her work; she soared to an amazing height creating freely and without limits to form her own gorgeous style. It was her work that first demonstrated to me the relationship between pain and suffering and great art.
Ku Shulan from Xunyi County in Shaanxi Province is another artist who influenced me. Her grand and fabulous papercuts are wonders in Chinese art history. She also endured much suffering. It is as though the greater the suffering, the greater the happiness and auspiciousness that comes to the artists who attempt to excel in papercutting.
These wishes, which lay beneath the surface of the art, are communicated in a natural, soulful way. Ku created the traditional folk papercuts of Loess Plateau in a rather personified way and gave them the faith that only human beings have. She innovated a palace of art in which she created a lively realm of such different combinations like the outside world and herself, the past and present, and the sky and the ground. She deepened the meaning of the art of traditional papercutting to a unique definition of her own, by using it repeatedly. Poems matched to the papercuts were like a Book of Odes, and demonstrated to me the vast mixture of human beings, art and faith, and how the recognition of the old brought people back to life.
Qi Xiumei in Gansu was also a talented papercut artist. When I was designing the stage of the Norwegian opera Finding Nana, adopted from Henrik Johan Ibsen's famous work A Doll's House, I was influenced profoundly by her. Qi's works portray a grand and solemn space, and at the same time reflect some features of the early Xiongnu Culture. The massive using of arcs and the combination of animals and human beings, all of these gave the design a beauty of repetition and arrangement. Forms were effective in creating a holy and solemn atmosphere for the theme of the opera, which is related to women's lives. They also successfully illustrated the feminine aspect.
It is a pity that they are not well known. In fact, many Chinese folk artists and the wondrous art they created are not accepted by the mainstream culture; consequently their work is deemed inferior inhibiting the spread of their ideas to a wider range of people. A large part of my work concentrates on this: to build a road towards their fabulous works and wonders so that people will have an opportunity to know them and to appreciate their art.