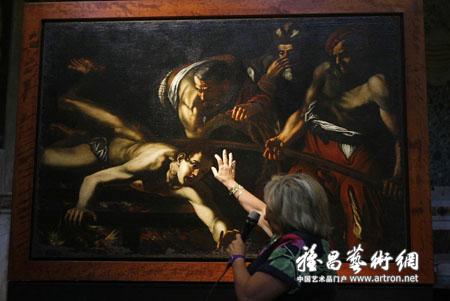 The "Martyrdom of St. Lawrence"
Art officials on Tuesday unveiled the painting at the center of the latest Caravaggio mystery, after the Vatican newspaper first suggested and then denied that the canvas was the work of the Italian master.
The "Martyrdom of St. Lawrence" will now be subjected to X-rays and other analyses to ascertain its attribution. But art officials and scholars attending the unveiling agreed the painting did not look like a Caravaggio — but rather like the work of one or more of his followers.
"It's a very interesting painting but I believe we can rule out — at least for now — that it's a Caravaggio," said art superintendent Rossella Vodret. "The quality of the painting doesn't hold up."
Vodret theatrically opened the curtain on the painting in a Jesuit church in Rome, revealing a canvas dominated by the figure of the St. Lawrence being grilled to death, his three executioners in the backdrop.
The 183-by-130.5 centimeter (72-by-51 inch) painting was recently cleaned up and features the dramatic chiaroscuro typical of Caravaggio and his school. The painting will not be on public display.
The Vatican newspaper, L'Osservatore Romano, set the art world aflutter last week with a front-page article headlined "A New Caravaggio."
The article made clear that no certain attribution had been made and that further tests were required. But the definitive-sounding headline and the fact that the claim was made on the day marking the 400th anniversary of the master's death had raised expectations. The Vatican has in the past announced such art-world news in L'Osservatore, sometimes coinciding with an anniversary.
But on Monday, the newspaper reversed itself and published an article by the Vatican's top art historian shooting down the claim. Under the front-page headline "A New Caravaggio? Not really," Vatican Museums chief Antonio Paolucci wrote that the work was not of Caravaggio's quality and termed it "modest" at best.